Last Friday, on Valentine's day, saw 13 final students on the Fashion Design BA course at Westminster debut their A/W20 collections at London Fashion Week.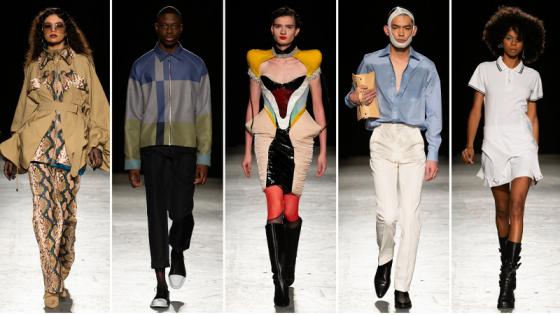 For the third year running, students in the final year of the Fashion Design BA course at the University of Westminster showed on schedule at London Fashion Week. Fifteen collections selected by an industry panel including Lulu Kennedy, Charles Jeffrey, and Gordon Richardson was shown to an invited audience of the world's top fashion journalists, buyers and international recruiters.
A highlight was the menswear collection from Steven Stokey-Daley, which was made possible by a substantial donation of fabrics from Alexander McQueen, with over 300 metres of fabric being given for all final year students to use. This unique collaboration was previewed on Vogue in the runup to the show. 
Aligning the academic calendar with the international calendar three years ago has given the students a head start over students on similar courses in the UK.
Professor Andrew Groves, Professor of Fashion Design at Westminster said: "All the students that showed this week at LFW have already worked for some of the world's best designers and are now ready to launch their design careers. I am thrilled that we are once again showing their collections at London Fashion Week in front of an invited audience of over 500 of the most influential people in the international fashion industry. This is a unique opportunity for any fashion graduate to be able to have so early in their career.
"I am also pleased to announce that in May we will be showing all our graduates A/W20 collections together with their S/S21 precollections at the Espace Commines showroom in Paris. Last year this unique opportunity enabled graduates to get jobs at the very best design houses in Paris, and it will allow those that wish to build their brands to develop budding relationships with international buyers and stockists before their graduation in June."
Westminster alumni include London Fashion Week designers Roberta Einer, Liam Hodges, Robyn Lynch, Priya Ahluwalia, Katie Ann McGuigan and Ashley Williams; as well as Christopher Bailey, Vivienne Westwood and Stuart Vevers. Other recent graduates from the course are working in the design studios of international fashion houses including Givenchy, Louis Vuitton, Burberry, Lanvin, Alexander McQueen, Balmain, Versace, JW Anderson, Stone Island, Calvin Klein, Ferragamo, Kenzo, Carven, and Loewe.