Fashion alumnus Hormazd Narielwalla's final project, entitled Dead Man's Patterns, has been archived at the British Library, the National Art Library and Courtauld Institute of Art amongst 25 other collections across the globe.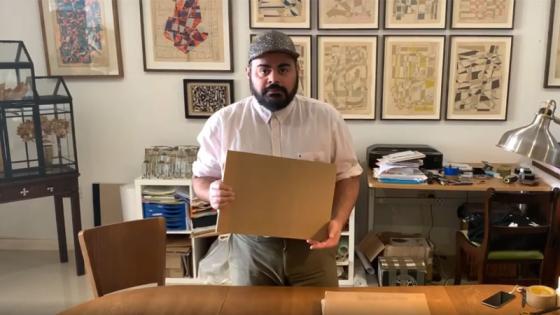 Hormazd's final project Dead Man's Patterns is a story which begins with a set of bespoke patterns cut by Savile Row tailors Dege & Skinner. The pieces of parchment were used to create a design experience through analysing, extracting and manipulating the patterns to find a new visual dialogue as abstracted shapes of humans. It looks at the history of the tailor with client pencil marks, chalk marks and notes which all inspired the photography of the patterns, which became a series of drawings in their own rights.
He started looking at the patterns as aesthetic objects and photographed each of the patterns separately in the book. He utilised his graphic abilities to create enticing imagery of the patterns, which started to become landscapes. 
The second chapter focuses on designing a contemporary white dress shirt, combining traditions from Savile Row, traditional white shirt designs and lines of patterns. Each book also comes with a pattern to give the viewer a sense of materiality of the project.
The limited-edition artist's book of only 100 copies was archived at the British Library, the National Art Library and the Courtauld Institute of Art amongst other collections at libraries and art institutions globally. 
Talking about his achievements, Hormazd said: "The Masters degree in Fashion Communication at Westminster was perfectly written for me as it was here that I started thinking of my work as art. I presented my book Dead Man's Patterns at our graduation show instead of a collection and after completing the course several people advised that I should release a limited-edition artist's book and see what the response was. 
"I was so surprised that libraries and collections around the UK and US responded to it so well and bought copies for their collections. They included the National Art Library, the British Library, Parsons and many others. The Victoria & Albert Museum shop started to sell the copies too, and it got the attention of Sir Paul Smith who bought several copies for his stores and gave me my first solo show in his Albermarle Street Gallery. I'm so glad I experienced the excellent educational service at Westminster. I would not be where I am without that course."
Find out more about Fashion courses offered at the University of Westminster.