The fusion of imaging culture and technology is central to the new BA/BSc and MA/MSc courses, reflecting the University's commitment to offer innovative and cutting edge education to its students. These cross-disciplinary degrees aim to develop skilled graduates who are able to adapt their expertise gained across a range of emerging fields.
The University of Westminster is the only university in the UK to provide such a comprehensive approach to the study of imaging, blending the teaching of photography and imaging from both a science and arts perspective, in a world-leading research environment.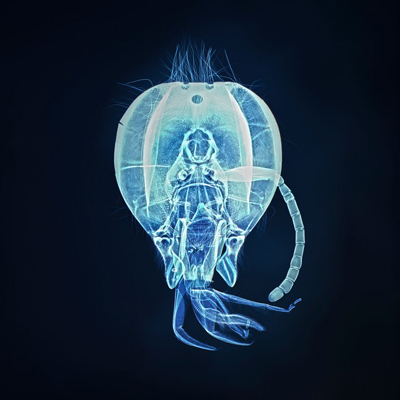 Head of honey bee - This image consists of 100+ single frames, each captured using a high-power microscope and DSLR camera. The frames were stitched together both horizontally and vertically in the same way as panoramic photos are created. Composite microscopy copyright © Ed Fry
Professor Jane Lewis, Pro-Vice Chancellor and Dean of Faculty of Science and Technology at the University of Westminster, said: "In the modern digital economy, the need for interdisciplinary study has never been more apparent; it is vital that individuals have the skills to cross boundaries and to communicate with a variety of people from different disciplines to be effective employees in the industry. The BA/BSc and MA/MSc Imaging Art and Science courses represent our vision to empower our students with the skills to cross those boundaries and be successful players in the imaging, media and science industries."
Elizabeth Allen, course leader of the Imaging Arts and Science BA/BSc Honours course said: "Imaging is a growing discipline, as a result of the huge expansion in digital imaging and associated technologies. The complex nature of the subject, especially in relation to its links with art and science, indicates the need for a trans-disciplinary approach. We are excited about the development of these ground-breaking new courses, which are the result of the collaboration of our multi-disciplinary team of arts and science educators, and will equip our students with valuable and transferable skills needed in today's ever changing imaging industries."
The University of Westminster has a long-standing tradition of delivering education in imaging and photography. Degree courses in Imaging Science and Photographic Arts have been delivered at the University since the 1960s, including the first photographic degree in the UK (BSc Photographic Technology from the Regent Street Polytechnic, now the University of Westminster). Students from the new imaging courses will graduate with either a science or an arts degree depending on their background, interests and career aspirations. A number of graduates from existing imaging courses work in leading imaging centres in the industry, such as Apple Research Labs, Aptina Imaging, ON Semiconductor, The Home Office Centre for Applied Science and Technology, Moving Picture Company (MPC), Double Negative Ltd (visual effects), Framestore; they also work in image production and management, or research and teach in academic institutions internationally.
Learn more about the Imaging Art and Science BA/BSc Honours, Imaging Art and Science MA and Imaging Art and Science MSc courses.