Dr Sanjoy Deb, Lecturer in Sport & Exercise Nutrition, will work with energy company Equinor and the Norwegian University of Technology and Science on his industry-led collaborative research project.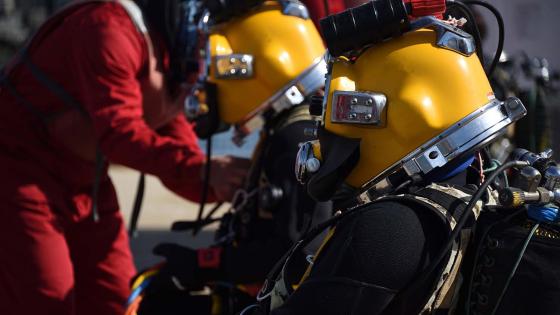 Energy company Equinor, one of the world's largest offshore operators, has engaged the University to undertake a project to optimise the evidence-based nutritional guidelines for health, wellbeing and performance of saturation divers. 
Occupational saturation divers live in a co-habituated chamber on board a diving vessel for up 28 days, which has a high atmospheric pressure, high oxygen content and no sunlight exposure. This extreme environment places a unique demand on the human body that challenges their cognitive, physiological and physical functions.
The divers only leave the chamber to perform daily work duties in deep sea waters, during which there are typically two divers in the water at any one time supported by up to hundred support personnel on the surface vessel to ensure the divers can work safely and effectively.
Dr Sanjoy Deb, said: "This is an exciting opportunity for the University to undertake research with a tangible benefit to workers in the global diving community and the wider energy sector. Together, our mission is to enhance the health, wellness and performance of occupation saturation divers through scientific research and knowledge exchange."
The research project has an international reach, with a close collaboration between the world-leading Barophysiology research group at the Norwegian University of Technology and Science, funders Equinor and the University of Westminster.
Lead Physician at Equinor, Dr Olav Eftedal, said: "We believe that nutrition is a key factor for the divers' performance and wellbeing in this environment. The purpose of the project is to increase knowledge of optimal nutrition for saturation divers and to find practical ways of implementing this knowledge in the daily diet. Our aim is that this project shall benefit both divers and the diving industry through improved health, wellbeing and performance."
Elements of the research project have been embedded into modules across the Human Nutrition BSc and Sport and Exercise Nutrition MSc degrees, helping to transmit the knowledge gained from research to students and provide them with a first-hand insight into extreme environmental physiology and nutrition.
Find out more about the Nutrition courses offered at the University of Westminster.