Two drawings from the Monsoon Assemblages (MONASS) research project at the University of Westminster are being displayed at the prestigious Royal Academy of Arts' Summer Exhibition, running from 6 October to 3 January.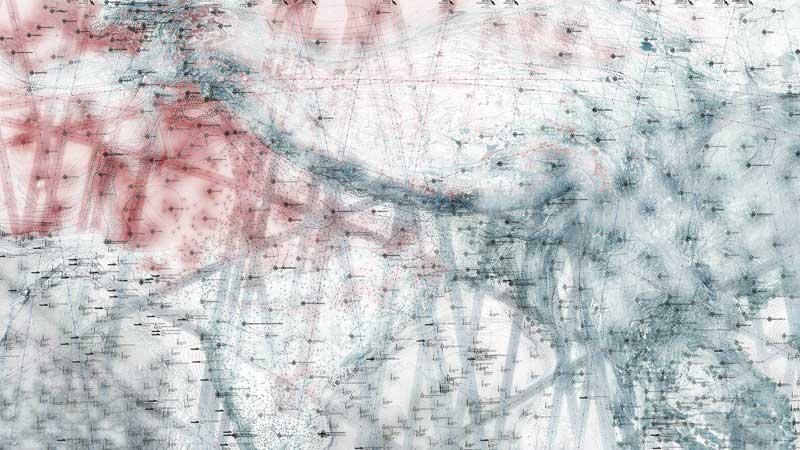 The displays are meteorological drawings and maps of data on the 2016 summer and winter monsoons in South Asia. They were produced from instruments that recorded the data, such as argo floats, data buoys, seismometers, weather stations, doppler weather stations, observing ships, and meteorological satellites. 
The MONASS research project is a five-year multi-disciplinary enquiry funded by the European Research Council (ERC) studying the relations between changing monsoon climates and rapid urban growth in Chennai, Dhaka, and Yangon, three of the largest cities in South Asia. 
In these cities, extreme weather events, all attributed to the monsoon's unpredictable nature, have led to the increasing frequency of water shortages, power failures, floods, disease outbreaks, damage to property and loss of life. The project advances research of lived environments as indivisibly natural, social and political, and proposes models for intervening in them through design. 
The research project was proposed by Dr Lindsay Bremner, Director of Architectural Research in the Faculty of Architecture and the Built Environment, to the 2015 European Research Council (ERC) who awarded her with a Starting Grant of up to €1.5m. 
Talking on the images being displayed at the Royal Academy, John Cook, Research Associate at the University of Westminster, said: "It was a surprise and an honour for the works to have been selected for this year's Royal Academy show, and to be shown amongst such a diverse range of artists and architect's work. They are only a small sample of the work being carried out by the team through the MONASS project – twin virtual and physical exhibitions, as well as an accompanying book, is due to be published when the project is completed next year."
Find out more about Architecture and Interiors courses at the University of Westminster.