Dr Haiko Ballieux, Course Leader for the Cognitive and Clinical Neuroscience BSc course, took part in the event entitled 'Me, Human: The Big Discussion' at the Science Museum as part of his involvement in the project.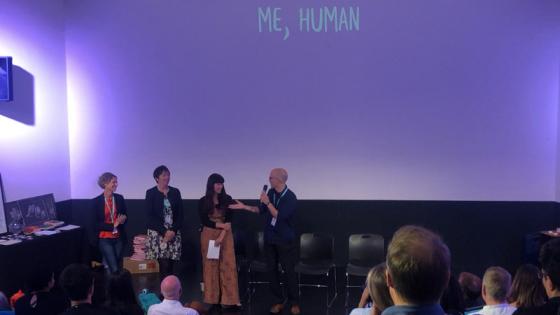 The event invited researchers, educators, funders, science communicators and visitors to celebrate the 'Me, Human' project, a 12-week live scientific experiment that investigates how the functions of our brain still underpin some of our most important and uniquely human behaviours.
A viewing and participation session of the experiment was held at the museum, as well as a panel discussion with the project team and special guests, where panellists discussed the evolution and development of the human brain and human links to the natural world.
Guests were invited to take part in the various experiments involving your hands, ears and eyes to find out more about how the brain works. During the live experiment, the project used museum visitors as participants from young children to adults.
The panel discussion focused on the science behind the project and highlighted the importance of public engagement and linking science and education institutions, as well as the importance of the links to the animal world.
Dr Haiko Ballieux was among the four researchers representing their University's involvement in the project. His work focused on the developmental perspective of the brain, exploring development over time on an evolutionary and genetic lifespan scale. He reviewed how sensory information interlinks with what you learn culturally from objects, their function and how we interact with them.
Speaking about the event, he said: "The 12-week run of the 'Me, Human' project at the Science Museum has exceeded all of our expectations. We received so much positive feedback from museum visitors participating in the different tasks. Their enthusiasm and motivation to contribute to scientific research was heart-warming.
"The Big Discussion we organised on the evolutionary history of some of our modern human behaviours was also well received by the very diverse audience consisting of families, academics, schools, and conservation organisations."
Find out more about our Cognitive and Clinical Neuroscience BSc course.