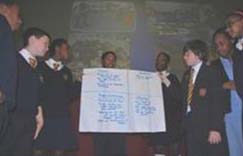 The visit was the final part of the gifted and talented programme launched last year by Karen Kufuor, Senior Lecturer in Westminster Business School's Economics and Quantitative Methods Department. The programme consisted of two climate change workshops held at SSPP, followed by a full day of activities held at the University.
The programme aims to bring new subjects to pupils, thereby deepening and extending the curriculum, as well as providing an opportunity for pupils to be introduced to University life at an early age.
Over the course of the programme pupils performed experiments to replicate the effects of climate change, learnt about the costs of climate change and how decisions we make as individuals can impact on our environment. Finally, they learnt how costs and benefits are analysed in a rational way in order to inform economic decisions.
While on campus, pupils were given a lecture on the 'economics of climate change' and then worked in small groups, assisted by their teachers and student ambassadors, to find ways to reduce their own school's carbon footprint. Pupils then presented their results to their teachers, University staff and students. The headmaster was then given a chance to respond to his pupils' suggestions.
Pupils also got an invaluable opportunity to learn about University life directly from our WBS student ambassadors and to ask them questions. Finally the students spent some time conducting research in the computer labs.
Headteacher Mr James Johnson, said: 'I'd like to thank you and the University student ambassadors for providing such a wonderful educational experience for our Year Six children recently. It was a most fruitful day on many levels and one which I know has not only given them plenty of food for thought on environmental issues but also sown seeds for future attendance at university. I look forward to repeating and developing the relationship.'