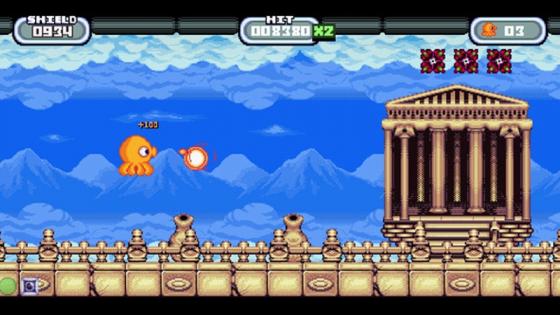 The development for Octonaut began in October 2017 with the Games group project module, which requires students to form groups and work towards creating a publishable game in order to gain transferable skills. Joseph and his team put an idea forward for a 'shoot 'em up', a sub-category of the shooter genre of video games. After completing a demo of Octonaut, Joseph decided to continue working on the game over the summer break, gathering feedback from his lecturers, peers, reviewers and guest speakers of the module.
The game stars an intergalactic octopus named Octonaut who is the defender of Earth. After Earth is attacked by an alien invasion, it is up to the player to fight off invaders and save the planet. Players start off on a beach, making their way across the galaxy to eventually fight against the alien leader, known as Master Brain.
The game takes after well-known Japanese 'shoot 'em ups' and 'cute 'em ups' such as Parodius, Harmful Park and Fantasy Zone, while the art style is inspired by the games of the SEGA Genesis. Sharing his thoughts on his success, Joseph said: "For me, game development is about making experiences that people can enjoy and share with others. For those looking to do the same, I'd say never lose interest in your projects and always stay determined. We're all capable of making amazing things and I'm always looking forward to seeing what others create.
"In the future I hope to continue making games and experiences that put smiles on others' faces. I have several projects planned and I look forward to collaborating with other developers and artists to see them through."
Markos Mentzelopoulos, Course Leader in Computer Games Development, also said: "This publishable & polished work demonstrates that students from our games course are able to use learned skills to produce state of the art work competitive to the games market. Game academics are always encouraging students to improve their group work, independent work, portfolios and work experience as the demand and challenges in the games industry is very competitive and demanding."
Octonaut - 星のタコ will be fully published and downloadable on Steam by the end of April and cost £4.99 to play. Following this, discussions are also in progress for the game to be published on Itch.io and Nintendo Switch.
Find out more about the BSc Computer Games Development course offered at the University of Westminster.