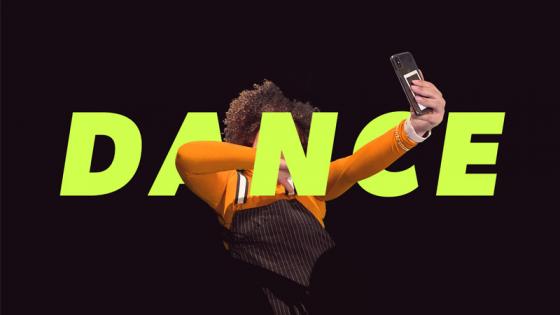 This new production by Matthew Morrison has been staged online and will be available from Monday 20 July at 1pm until Friday 7 August online at www.dancetheplay.co.uk
This will be the first lunchtime play that the Soho Poly has produced in 30 years and has been made possible by the generous support of the University of Westminster's Arts Communication and Culture fund. 
DANCE, directed by Charlotte Peters, follows a father and daughter's story starring Shonagh Marie and Tim Treloar. Marie's Kemi is being bullied and it is  getting out of control. Her dad, Richard, played by Treolar, tries to help but only makes it worse. But when Kemi is humiliatingly thrust into the limelight, the pair concoct a dark revenge that might just go viral. 
DANCE is a captivating, funny and unpredictable story about how far people will go to take back control. DANCE explores the impact of social media on mental health and how online bullying impacts young people in today's society. The play follows the dark and unpredictable lengths a father and daughter will go to and the pressure and fear that mistakes made when young will define us forever. 
In 1972 the Soho Theatre, founded in 1968 and now based on London's Dean Street, moved to a basement on Riding House Street owned by the Polytechnic of Central London, now the University of Westminster. Here it became known as the Soho Poly and, for twenty years, it was to have a hugely important role on the fringe and alternative theatre scene. Hanif Kureishi, Caryl Churchill, Timberlake Wertenbaker, Nigel Hawthorne and Simon Callow are just some of those who passed through its doors.  
The Soho Poly was a pioneer of 'lunchtime theatre', which was part of an attempt to make theatre more inclusive by bringing arts and culture into the heart of the ordinary working day. Lunchtime theatre also offered opportunities to many artists who found themselves excluded from mainstream theatre. Sadly, the Riding House basement was abandoned in 1990, but there is now a major fundraising project underway to fully restore and revive it and DANCE will be its first venture.
The play is being produced in association with Brickdust, who work with writers to develop stories told from an alternative perspective. Brickdust's work includes Chloë Moss's  'How Love Is Spelt' at Southwark Playhouse starring Larner Wallace Taylor, Michelle Collins and Nigel Boyle, and 'Bury The Dead', directed by Rafaella Marcus, at the Finborough. During Lockdown, Brickdust collaborated with Coronavirus Theatre Club to release Lucy Nichol's short, 'Oranges and Lemons' to an audience of over 5,000 people. 
DANCE is written by Matthew Morrison whose plays have included 'Through the Night', a Papatango award runner-up, produced at the Finborough Theatre; 'Inside Out', produced at the HighTide festival; and 'The Shelter', commission by LAMDA and produced at The Riverside Studios. His recent play, 'The Bounds', was shortlisted for the Theatre503 playwriting award and was chosen by the Arcola for its Playwright scheme. 
The play is directed by Brickdust's Charlotte Peters, whose most recent work includes the hit, 5-star production of 'Birdsong Online' for the Original Theatre Company. Peters is due to direct new comedy 'Another Mother' at the Park Theatre and is Associate Director on the UK and international tours of both 'War Horse' and Stephen Daldry's 'An Inspector Calls', following runs at the National Theatre and West End respectively. 
Shonagh Marie stars as Kemi. Her acting journey began at the age of 16 at the Lyric Theatre where she progressed onto the Big House Theatre company, where she played multiple roles in 'Brixton Rock', based on the novel by Alex Wheatle, followed by the lead role in the critically acclaimed 'Bullet Tongue'. Marie has done a variety of work supporting young people and sharing her own inspiring story which has also featured on an episode of BBC Radio 1's 'Life Hack's'. 
Tim Treloar stars as Richard, who can be most recently seen in 'Birdsong Online' for the Original Theatre Company. Alongside his varied stage career Treloar's most recent credits includes the film 'Dolittle' and BBC's 'Call the Midwife'. 
DANCE explores social media and bullying both online and offline and features a new track by Lindsey Miller, performed by Kaya Palmer, with TikTok choreography by Lily Howkins. The video will be available on TikTok and YouTube and the track will be downloadable from www.dancetheplay.co.uk 
For more information visit DANCE The Play's website.