The work of Beata Orzechowska, final year undergraduate Biomedical Science student, in collaboration with Dr Manal Mohammed, who teaches Microbiology, has recently been published in the journal IntechOpen.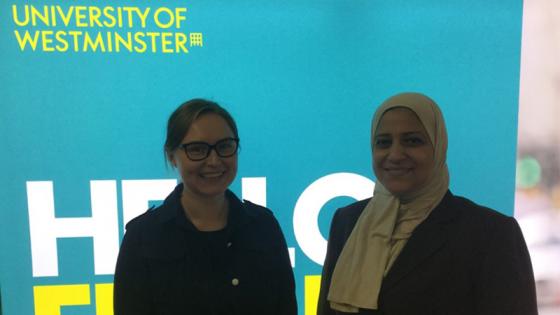 Beata and Dr Mohammed's work draws in on the global dissemination of antibiotic resistant bacteria, which represents a major threat to public health. Resistance has been found in drugs that represent the last line of antibiotic defence against some deadly infections, indicating that the world is on the cusp of a 'post-antibiotic era'. 
During the sandwich year of her course while on placement at Public Health England, Beata was encouraged by Dr Mohammed to contribute to the writing of the book chapter for IntechOpen. 
The chapter focuses on Bacteriophages, which are viruses that are widely distributed and have the ability to attack and destroy bacteria, and therefore they may offer an alternative to antibiotics. It discusses in detail the different strategies used by bacteria to overcome the bacteriophage, including inhibition of attachment to the cell and bacterial adaptive defence through a variety of avenues.
It also discusses the counter-strategies developed by bacteriophages to avoid bacterial anti-phage mechanisms, and how the bacteria and phage fight is a preliminary step towards designing synthetic phages that can overcome limitations of phage therapy and potentially lead to defeating antibiotic resistant bacteria.
Speaking about her experience writing the book chapter, Beata Orzechowska said: "I wish to thank Dr Manal Mohammed for providing me with a valuable opportunity to write the book chapter, as well as for continuous encouragement and support."
Dr Mohammed added: "I am very pleased to see our book chapter has now been published. Beata is carrying out her final year UG project under my supervision and I encouraged her to work with me on this book chapter. We reviewed all bacterial resistance mechanisms against phages as well as the novel counterstrategies developed by phages to circumvent bacterial anti-phage mechanisms.. 
"Understanding the war between bacteria and phages is a very crucial step towards defeating antibiotic resistance through designing synthetic phage/s that can be used as an alternative to antibiotics for the treatment of antibiotic resistant bacterial infections. We prepare our students for the future through enhancing their learning and employability skills. This was a noteworthy experience for Beata, providing her with invaluable knowledge and opened doors to many future career opportunities."
Learn more about our Biomedical Sciences BSc Honours course.