The work of Thomas McLucas, Architecture BA Honours student, was selected from entries drawn across the UK for the exhibition 'INDUSTRIALISED' at the Royal Institute of British Architects (RIBA).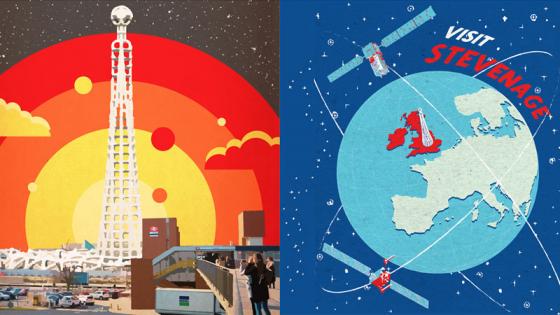 The RIBA exhibition titled 'INDUSTRIALISED' shows drawings by over 40 students from 20 schools of architecture across the UK. It parallels another exhibition in the Architecture Gallery called 'Beyond Bauhaus', both exhibitions respond to the centenary of the opening of the historic Bauhaus school. 
The Bauhaus school was established under the Weimar Republic in 1919 and closed in 1933 under the Nazis. The school's teaching program cohered around a novel concept of industrial design, which for them meant the production of a universal, totally integrated environment.
This year, the BA Architecture Studio DS2/6 set out to work in a truly post-industrial environment in a project led by Dr Victoria Watson, Senior Lecturer at the University. The project was called CAR PARK to COSMOS, it asked students to remodel a car park in Stevenage for a hypothetical organisation, 'The International Institute of Cosmism (IIC)', who plan to develop the car park as a place of post-industrial work, specifically to make Cosmist movies. Students were encouraged to think like Russian Cosmists and to invent their own utopias, just like architects of the Bauhaus would have done. 
Thomas McLucas' approach was heavily inspired by the monumentalism of the Soviet Union, as can be seen, for example, in the Shukov tower or Fernsehturm in Berlin, which the students visited on their field trip. 
Speaking about his work, Thomas said: "It is highly exciting to be exhibited at the RIBA as part of the Bauhaus centenary celebrations. It is important to reflect on our industrial past as we are in a new technological revolution, one where what we are producing is less material but no less impactful.
"My project acts as a critique of the post-industrial nature of mass media, aiming to highlight this by pulling the production and transmission into one transparent structure. Transparent, in that activity can be seen through the meshwork form, and that the architecture clearly expresses what it does."
Talking about his achievement, Dr Watson said: "Thomas McLucas's project is remarkable for the way it poses questions about the nature of post-industrial work and of the new kinds of media technologies that effect our environment, even though we cannot necessarily see them."
The exhibition will run until 30 November at the RIBA, 66 Portland Place.
Find out more about the Architecture BA Honours course offered at the University of Westminster.
Find out more about the INDUSTRIALISED RIBA exhibition.