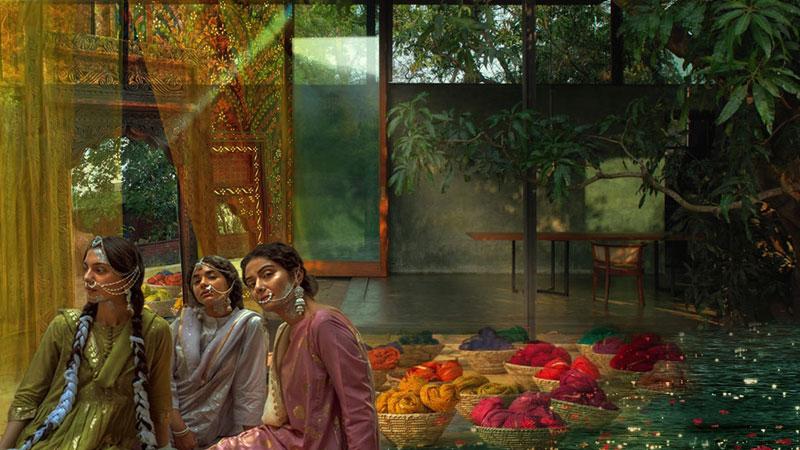 Eye Line 2021 is The RIBA Journal's annual international competition that showcases the best rendering and drawing skills. It is separated into two categories of students and practitioners, and showcases works that "brilliantly communicate architecture, in any medium or combination of media." For this year's competition, the judges were looking for submissions that communicate the "agit-prop of resistance to the sense of atomisation" that has been experienced across the globe in the past year.
The competition encourages a wide variety of entries, from hand-drawn concept sketches to technical digital renders. The RIBA Journal hopes to exhibit the winners and commendations at the RIBA and publish them in print and online.
Areesha Khalid's submission, entitled 'A magical Eid in the backyard', depicts the celebration of Eid at home during the pandemic. Describing her submission, Areesha explained how she created the work during lockdown when people were not able to meet up to celebrate Eid. Through her work, she wanted to create a romanticised image showing how Eid can be magical on a much simpler level in your own backyard. She used nature elements including soft rays of light that touch the surface of the water alongside South Asian clothes and colours to add to the magical effect she wanted to depict.
Talking about being in the final selection of the RIBA Eye Line Competition, Areesha said: "Besides my MArch, I completed my undergraduate Architecture BA Honours course at Westminster too. As part of a very multicultural University, we were always encouraged to use our work as a means of self-expression and reflection of our individual identity and heritage in our design studios. I took that forward and started an Instagram art/architecture page dedicated to expressing my South Asian identity. This image was a part of that. I am pleased that something that I started as a means of self-expression is being recognised by RIBA."
Richard Difford, Principal Lecturer and Course Leader for the Master of Architecture (MArch) (RIBA pt II) course, added: "We are delighted to see that MArch student, Areesha Khalid, was shortlisted in the RIBA Journal's Eye Line 2021 drawing competition. Areesha's drawing is a beautiful and atmospheric rendition of light and colour that celebrates the richness and diversity of architectural drawing."
Commended entries of the Eye Line 2021 competition will be announced on 22 July, with first-place winners being revealed on 27 July. The winning entries will also be published in the August issue of the RIBA Journal.
Find out more about Architecture, Interiors and Urban Design courses at the University of Westminster.