Anwar Akhtar, Media Director and co-founder of The Samosa, gave a talk to Contemporary Media Practice BA Honours students about creative media production.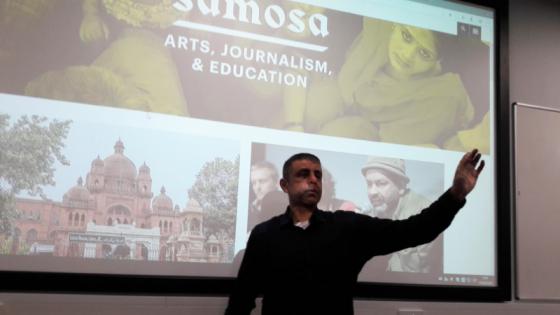 Akhtar is working with the second-year students on a live project/client brief. He gave his talk then delivered workshops with the students to guide them in the development, production and delivery of a piece of creative media production, related to a theme or subject that the student identified following their initial session with him. 
After the initial lecture with the whole class, a small group of eight students have formed a project group, with them responding to the talk Akhtar gave on British identity and media representation. 
The students were enthused by the ideas discussed in relation to their experiences of living in Britain. They will meet Akhtar again for feedback and guidance on the work they produce. The students are currently exploring the area of Southall with the working title 'Southall Dream'.
Akhtar, a writer, journalist and theatre and film producer, is the co-founder of The Samosa, a London-based arts and media charity working with South Asian and Muslim communities to facilitate positive cooperation and discussion through the arts. It connects film, theatre, spoken word and multi-media artists with young people and uses media, theatre and journalism to provide a creative space for young people to explore cultural and social issues. 
The Contemporary Media Practice BA Honours course involves interdisciplinary media practice, working across moving image, photography and interactive media, enabling students to develop creative media production skills across a range of disciplines and giving them the ability to adapt to the creative opportunities of new media forms and hybrids. 
Akhtar said about his visit: "The challenge for the student group is to find new ways to visualise, contextualise and tell a story that is now such a major part of Britain's Island story that encompasses both our history and today."
Learn more about The Samosa on their website.
Learn more about the Contemporary Media Practice BA Honours course.