SunYen Yee, graduate from Master of Architecture: MArch RIBA Pt II, has won an award at the AIA Dallas Ken Roberts Memorial Delineation Competition Student 'digital/mixed' Category (KRob 2019) for his project located in Havana, Cuba.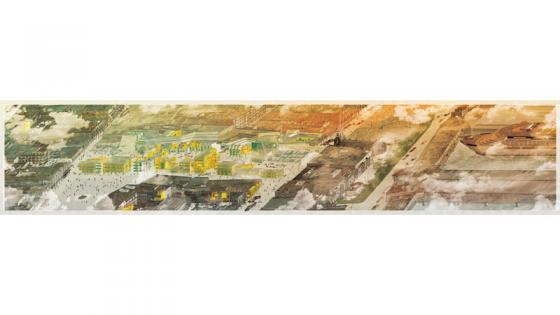 The KRob competition celebrates the best in architectural delineation that has received international recognition and honours hand and digital delineation by professions and students globally. The competition averages over 400 entries a year, and is the most senior architectural drawing competition in the world.
Alumnus SunYen Yee's artwork won the award for 'Best in Category' for his 'Student Digital/Mixed' piece.
The drawing he produced was part of his design representation at DS22 Design Studio at the University, for his main project SEED of Havana-Dissolving Condensers, a new 'social condenser' in Havana, Cuba, and was inspired by the social constructivism movement that has shaped the city during its socialist era.
The drawing reimagines the city, inserting new seeds of production within the fabric of the city. His drawing is inspired by Chinese traditional painting and is a mixed media piece. His project is unique in its research by design approach, with a dialogue between scales, analytical text and drawings. 
It also builds upon a 'green' agenda, a subject that might be viewed in the West as a form of luxury. However, in the case of Cuba which suffered sanctions throughout, it is consciously introduced as an integral form for survival and resilience.
Talking about the achievement, SunYen said: "I am delighted to have been awarded the KRob Best in Category Student Digital/Mixed award for my project, a great encouragement to further my interest in visual representations. This is a notable achievement and has provided me with great knowledge for my future career."  
SunYen's tutors from DS22, Dr Yara Sharif and Dr Nasser Golzari, added: "The project goes beyond the studio brief which aimed to project the gains of the neighbourhood, with a creative scheme that dissolves, appears and reappears to revitalise Havana's historic fabrics. SunYen offered a multi-layered way to re-read the streets of Havana away from the glitter of capitalism. By proposing an ephemeral approach to architecture, he introduced us to a new perspective of the city where locals take over with a new system of redistribution of power based on an intensified form of production within the urban voids.
"The work of SunYen is the result of long research, drawings and making with outstanding quality. In recognition, he has won the Best Drawing Award across the School of Architecture at Westminster."
Find out more about the MArch RIBA Part II course offered at the University of Westminster.