Skills Academy 2015 took place between 26 May and 5 June and featured 27 seminars and workshops covering a wide range of topics including CVs, job interviews, networking, innovation, job hunting with social media, commercial awareness, public speaking, IT training, communication and body language, self-awareness, starting a business, a mock centre assessment and online psychometric testing.
A mix of internal and external industry professionals and speakers, including Bloomsbury Solicitors, Chartered Institute of Management Accountants (CIMA), Production Base, IBM, I Want To Be Ltd, Stabb Commercial Contracts Ltd, Jump Training & Development and Local Government Association, offered students a professional and informative perspective throughout the two weeks.
Joe Mahoney, Managing Director of Production Base, a leading job board and networking site for those in the media and film industry, came to speak to students about how to produce CVs and cover letters when applying for their first professional production roles. He said: "It's vital that graduates understand the type of skills and attributes that employers are looking for – having a solid CV and knowing how to write a good cover letter can make all the difference in getting that first job on the career ladder. When I started out, I could have greatly benefited from getting the inside track from an industry professional, such as the speakers taking part in Skills Academy."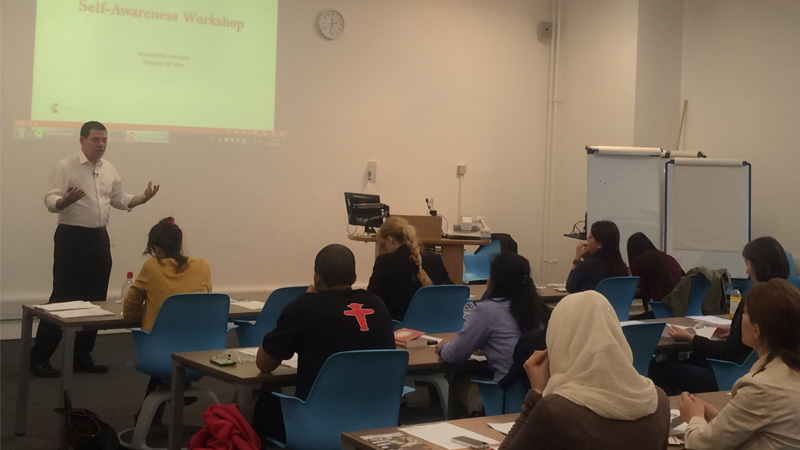 Speaking of his talk, Dene Stuart, Managing Director of I Want To Be Ltd, said: "The most gratifying part is at the end of the session when those students who have been really touched by the topic want to have a quick personal chat and say thank you. That's when you know you've hit the spot."
Marinela Dobreva, final-year Accounting with Management BSc Honours student, attended the Starting a Business session and the CIMA Mock Assessment. Speaking of the latter, she said: "At the end of the workshop I felt that it was time well spent and I was thankful I attended. I have learned about the key skills employers are looking for during assessments and managed to identify a few areas for improvement. I managed to practise my team building, time management and presentation skills."
Skills Academy was set up six years ago – at the start of the recession – to help Westminster students and graduates get ahead in the recruitment game.
Frances Gow, Employability Manager at the Career Development Centre, said: "Despite figures in recent years showing an improvement in graduate recruitment, the jobs market has suffered more deeply and for longer than anyone anticipated. So we have kept our Skills Academy as a way for students to redress the balance and really prepare for their next step before finishing their courses. There is something for everyone, whatever career they choose to follow and workshops to help students make decisions and set goals for their future after university."
Learn more about the range of employability initiatives the University of Westminster's Career Development Centre offers to Westminster students or email Iram Sial at [email protected] if you have any questions or if you would like to take part in Skills Academy 2016.