The Centre for the Study of Democracy and the Institute for Modern and Contemporary Culture invites Fabien Jobard (CNRS/CESDIP) for the first cycle of the seminar series "French Politics: A Neighbour's 'History of the Present'", entitled "An Authoritarian Spiral in France?"
Fabien Jobard's paper is titled: "Liberal, Authoritarian, or Police State? Defining the French State According to its Police"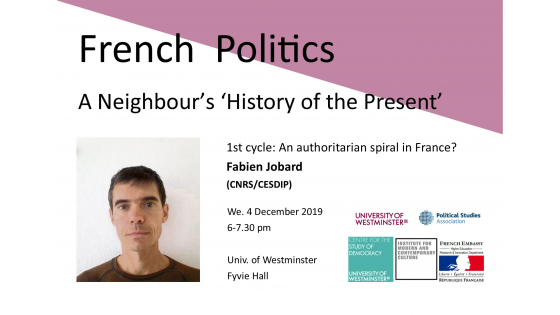 About the seminar series
"French Politics: A Neighbour's 'History of the Present'" is a monthly seminar series organised by the University of Westminster (Centre for the Study of Democracy & Institute for Modern and Contemporary Culture), introducing the "crème de la crème" of French research in Social Sciences and Humanities.
This series is designed with the Foucauldian notion of "history of the present" in mind and will tackle some of the most pressing challenges of French politics and political theory today.
 
The series is divided into three cycles:
An authoritarian spiral in France?
French universalism vs. Alien identities?
Can France think of itself as postcolonial?
With kind support from the French Embassy in the UK - Higher Education Research and Innovation Department (in association with "The Borders of Identity" seminar series supported by the Funds d'Alembert 2019) and the Political Studies Association.
Location
Fyvie Hall, 309 Regent Street W1B 2HW London
Contact for more information
Emmanuel Jouai
[email protected]