Baroness Hayter of Kentish Town
Visiting Professor in History, University of Westminster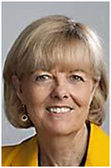 The lecture will be looking at how the House of Lords has developed and what might be lost – in terms of function as well as composition – if the Upper Chamber became all or mostly elected. It also asks what a second chamber is for.
Reviewing the role of the Second Chamber as part of the Opposition, and in terms of scrutiny of legislation, the lecture will describe the expertise, experience and diversity made available to the House by way of appointments. It will also assess the Government's current proposals for an elected House against the desire for greater accountability and representativeness.
Given the Lords' opposition to their own abolition, it remains unclear how much of the Government's plans will be enacted. The lecture aims to stimulate consideration of what we want from a second chamber – assuming we do not simply favour a unicameral system.
Enquiries: [email protected]