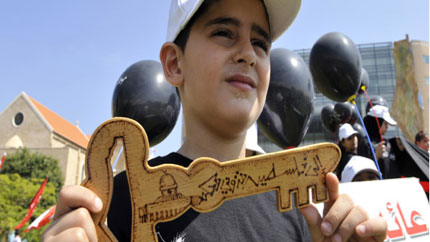 ,
This one-day conference will look at the subject of Palestine in a changing Middle East.
Next year marks the 69th anniversary of the 1948 Palestinian exodus, also known as al-Nakba – several generations of Palestinians have been born in exile and most of the generation of Palestine – those old enough to remember their homeland – are now dead. Subsequent generations have developed different ways of coping with what some have described as an ongoing Nakba. Events on the ground have also affected Palestinian strategies for survival while they wait to return, for example the violent conflict in the Nahr al-Barid camp in northern Lebanon, the so-called Arab spring and the destructive civil war in Syria which has seen Palestinian camps destroyed and refugees forced to flee again.
What can Palestinians, forced to live in often insecure, violent and unwelcoming environments, do to make their own lives and those of their children more tolerable? What is the role of the Arab states, often accused of betraying Palestinian aspirations, and what should the international community be doing? What more can Palestinians do to alert the world to the injustice of their situation? We have seen efforts by young Palestinians to take control of their lives, including political, cultural and social events, and the construction of virtual networks. This conference will address the question of what happens next.
Register to attend
This event is open to all and lunch will be provided.
To attend this free conference, simply email Maria Holt on [email protected] or Atef Alshaer on [email protected]
Conference programme
9.30–10am: Registration
10–10.10am: Welcome – Dibyesh Anand
10.10–11am: Keynote speaker – Gilbert Achcar, Palestine and the international context  
11.30am–12.30pm: Panel One
Dina Matar, Palestinian narratives and the media
Nina Gren, Palestinian refugees in Scandinavia and the occupied territories: change, engagement and future challenges
Adeeb Ziadeh, EU foreign policy on Palestine: what went wrong?
Chair: Maria Holt
12.30–1.30pm: Lunch
1.30–3pm: Panel Two
Sir Vincent Fean, Seeking equal rights for Israelis and Palestinians - what can Britain do?
Richard Burden, MP, The challenges of solidarity with Palestine in Britain
Rosemary Hollis:  It's the occupation, stupid
Chair: Atef Alshaer
3–3.30pm: Coffee
3.30–5pm: Panel Three
Khaled Hroub, Internal Palestinian politics and the regional dimension
Sahar Rad, The dynamics and political implications of British and European aid to Palestine
Atef Alshaer, Reflections on Palestinian literature after Oslo