We invite you to disrupt your day with a lunctime visit to the University of Westminster and to experience a ghost gig, listening to a recording of the performance of the concert over your lunchbreak.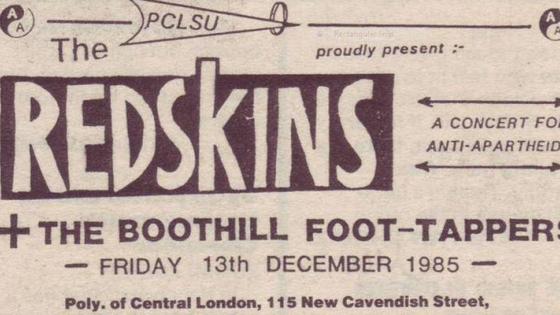 On 13 December 1985 our New Cavendish Street site played host to the 'socialist skinhead soul' of Redskins, playing a benefit gig for the Anti-Apartheid movement. 34 years later, on the same date and in the same space we recreate the gig.
This event forms part of the Disrupt your Everyday project led by Matt Morrison and Guy Osborn. This project pays homage to the spirit of the Soho Poly and its practice of challenging notions of time and space. In addition this ghost gig casts a new light on the live music legacy of the University of Westminster.
Starts at 12.30pm - bring your lunch and kick over the statues.
The Pavilion, 115 New Cavendish Street, University of Westminster, London, W1W 6UW