The Green Kitchen Standard Award recognises caterers that are making positive steps to sustainably manage their energy, water and waste.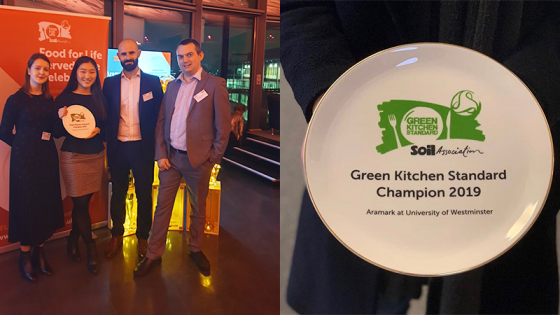 In 2018 we were the first London University to achieve the standard.
Following on from this success our Catering Team were awarded the Green Kitchen Standard Champion 2019 on 15 November at City Hall. This means we have achieved the highest score of every institution who attained the standard this year with our catering team earning a score of 86%.
For our customers across all the University campuses, this means eating somewhere that you know is going to ensure we minimise our environmental impact. Caterers must prove their environmental credentials and provide a clear point of difference to set their service apart from the rest. This can mean cost savings as well as aligning with energy, water and waste requirements of the Defra Plan for Public Procurement and the UN's Sustainable Development Goals.