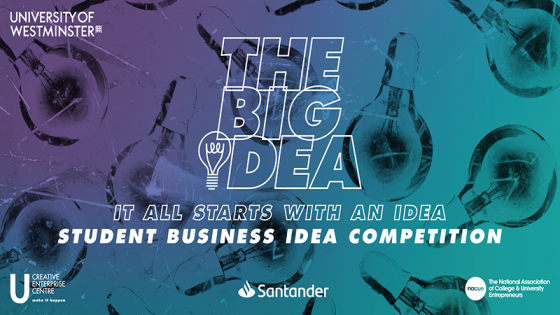 Applications are open for  the University of Westminster's Big Idea Competition – an all new student business idea competition to showcase the University's entrepreneurial spirit. 
The competition is organised by the Creative Enterprise Centre in partnership with Santander Universities and NACUE (National Association of College and University Entrepreneurs) and is open to all University current students on any course.
We are not looking for the most developed idea or business concept we are looking for ideas that are imaginative, disruptive, exciting and resolve real problems, needs and trends in our modern-day society!
Your idea could be a new film or documentary project, fashion brand, a society, community group, a magic beauty product or the next viral mobile app or your idea could be turning your specialist skills into a consulting or freelance business such as photography, IT consulting, pattern cutter, illustration or laser cutting. 
Entry categories:  
Ideas utilising digital or online technology platforms, software or hardware 
 Ideas based on a specialist craft or trade that manufactures products 
 Social or Environmental Impact
Ideas that positively make a difference to social or environmental issues
Ideas that leverage specialist skills, knowledge or expertise at a small scale
Prizes
Enter and you could win one of the following prizes: 
4 x £500 winner prizes 
8 x £350 runner up prizes 
4 x £250 Viral Idea Prizes (the ideas with the most votes)
How to enter
To participate in the competition, record and upload a 60 second video pitch of your idea, choose an entry category and complete an online application form before 25 January for a chance to win one of several prizes.