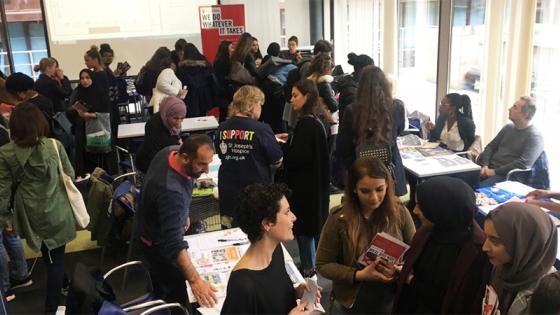 The Westminster Volunteering and Work Experience Fair took place at Cavendish Campus on 3 October. We hosted 40 charitable organisations at a vibrant event full of hundreds of enthusiastic students looking to develop their skills by pursuing an opportunity to volunteer, creating connections that will help them further their careers and personal goals - as well as making a difference in their community.  
Volunteering is one of the most popular extracurricular activities at Westminster, and one of the most rewarding as well. Organisations such as Alzheimer's Society, KEEN London, the Raspberry Pi Foundation and WaterAid presented our students with an exciting variety of volunteering opportunities, from teaching younger generations how to code to helping the elderly stay independent in their daily lives.
All of the charities were impressed with the passion and commitment of our students to volunteering and giving back to the community. Anna Jones, from Team Westminster, said: "This was a great event for meeting keen volunteers, who are enthusiastic and genuine in their desire to participate!"
The enthusiasm of students was the recurring theme of the afternoon, and the high levels of attendance led to unprecedented experiences for some charities. 
Adam Pearson, one of the representatives for Pursuing Independent Paths, remarked: "I've never run out of flyers before! The students are all eager; I've never been to such a busy volunteering fair. It was a refreshing surprise!"
Our students once again proved they are key ambassadors in building our relationships with local, national and international communities.
If you were unable to make it to the fair and would like more information, please get in touch with the Volunteering Services Team at [email protected]. 
We can help you find an opportunity that suits your interests and needs. Find out more about we can help you on our Student Volunteering Service pages.