The University of Westminster is encouraging applications from entrepreneurial students and graduates.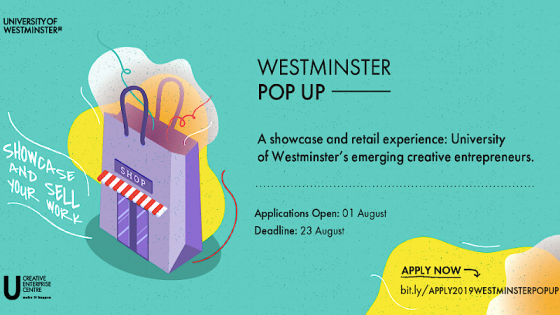 Westminster Pop Up is an enterprise experiential learning project to showcase and launch the University's entrepreneurial and emerging designers, makers, creators and crafters. The Pop Up offers a one-to-two-week retail and showroom occupancy in Central London to University of Westminster students and graduates, where they can sell and showcase their products.
Over the three-month duration of the project, selected participants receive extensive business support and guidance to develop their entrepreneurship skills, and to launch their brands and businesses.
If you are a University of Westminster student or graduate, apply now to participate in the 2019 Westminster Pop Up Project. Be quick, as the deadline for applications is fast approaching on Friday 23 August.
Applications can be made via the following link.
Before starting your application, please ensure that you have read the Project Overview and Application Instructions.
For further information about the project, see the 2018 Pop Up celebration of the creative arts or for more details on how you can apply, please visit our Westminster Pop Up student pages.
Watch the video of the last year's Westminster's Pop Up event.