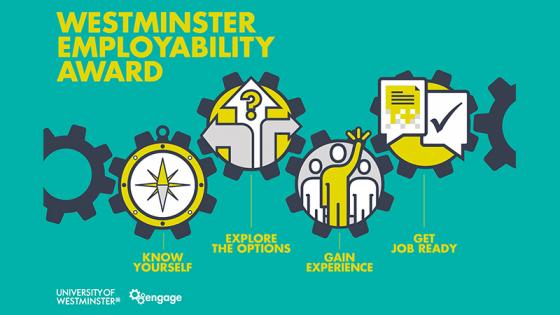 The Westminster Employability Award launched on Monday 8 October at the start of this year's Employability Month.
This is an exciting new Award that can support your career development and formally recognise the extra-curricular activities you complete during your time at the University of Westminster.
You can achieve a Bronze, Silver or Gold Award and get the chance to win £400 by gaining points for completing core and optional activities across four stages. Activities include attending events on campus, having a one-to-one session with one of our career consultants or participating in the mentoring programme.
To get you started with the Award, we have organised a lot of events on campus including employer sessions, careers fairs, skills development workshops and others. Find out more about Employability Month and Skills Academy and book your place via Engage.
By taking part, you will gain experience and develop key skills that employers want you to have. You will also find out more about yourself, explore different options and get job ready.
You can complete the Award in your own time and have until 1 May of your graduating year to finish. Any previous eligible activities will be backdated to September 2016.
Find out full details of the Award or log-in to Engage to participate.