On Thursday 28 November, the University of Westminster hosted the Giving Group Dinner at Fyvie Hall on Regent Campus to celebrate the philanthropic contributions to the University and showcase the outstanding impact their generosity has made on student lives.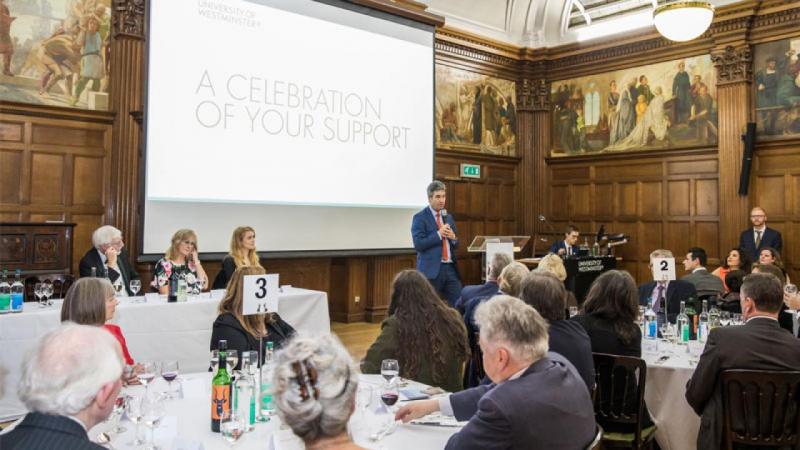 The event recognised the ongoing support of the University's donors, including the two top giving groups, the Robert Mitchell Society and the George Cayley Circle. The generous donations of both groups have made possible a number of projects to enhance student experience at the University, as well as funding research projects and supporting the wider community.
The event provided the opportunity to unveil the conceptual design of 29 Marylebone, an innovative space aiming to bridge the gap between the University's enterprising talent and the potential employers of the outside world.
The building will house an array of spaces for teaching, collaboration and creative thinking, as well as providing access for business partners for their own development. The University hopes for the space to be fully operational by 2022.
The event was widely attended by notable alumni and students who have been granted scholarships, awards from The 125 Fund and international opportunities. Alongside them, the University's Vice Chancellor Dr Peter Bonfield and Director of Student and Academic Services Caroline Lloyd also attended.
For the second year running, the University's Alumni Awards took place at the Giving Group Dinner. Alumni who have made noteworthy contributions to their field were commended during the evening, receiving special prizes and certificates to recognise their efforts. Winners of the awards included Dr Michael Taylor who won the Lifetime Achievement Award, and Alicia Williams who was granted the Social Impact Award.
Throughout the evening, speeches were made by the Vice Chancellor, the University's close donor partner Jenny Hancock from Howard de Walden Estate and from The Wates Scholarship student Maryam Islam.
In her speech, Jenny Hancock said: "We believe in what you are doing here, your students are the future and if we can help you, that is a fantastic thing."
Talking about her experience at the University, Maryam Islam said: "I chose this University because of the diversity it promotes. The Wates scholarship has helped me so much."
Host of the evening and Director of Student and Academic Services Caroline Lloyd said in her welcome speech: "It is fitting we are here in Fyvie Hall this evening really to celebrate, as Lord Fyvie was, our benefactors, to celebrate those who give their time, their energy, their resource to us as a University."
Dr Peter Bonfield added: "You are all invited because you give. You make the experience of our students special, different and distinctive. The purpose of tonight is to say thank you. We are relentlessly, completely and utterly focused on supporting our students' wellbeing and experience.
"Everyone deserves everything we can give to them to fulfil their potential. The extras you add make a huge difference, so genuinely, thank you."
Find out more about how you can support the University.