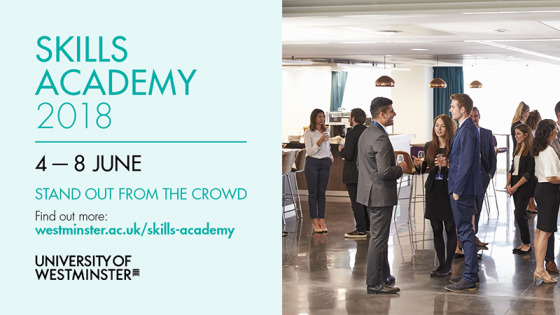 As part of the skills academy, we are delighted to welcome back Dwain Reid and Steve Creffield, two highly esteemed professional speakers who offer training to individuals and organisations to improve networking skills and public speaking.
On Thursday 7 June between 12 – 2pm, Dwain Reid will run a fun, interactive two-hour networking session at our Marylebone campus.
Move out of your comfort zone and learn useful skills and techniques to confidently meet people and strike up engaging conversation.
Book now and confirm your place.
Steve Creffield will join us on Friday 8 June from 1:30pm – 4:30pm at our Marylebone campus.
This intense and interactive workshop will help you to present and speak with confidence - a much needed skill in the world of work. Whether you are preparing to interview, need to deliver a presentation or just want to learn how to present to an audience in a confident manner, join Steve as he takes you through the practical skills you need to prepare and deliver an engaging presentation with confidence!