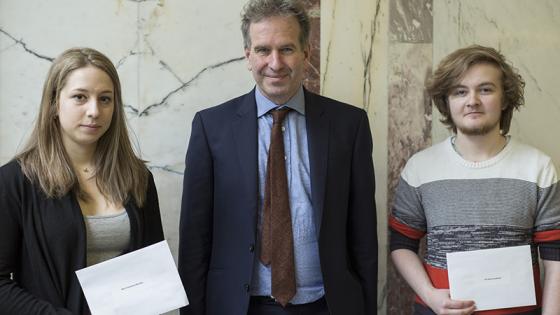 Six students have won Amazon gift cards in a prize draw for taking part in the National Student Survey (NSS).
By sharing their thoughts and experiences of the University through the NSS, the students will help to improve the experience at Westminster for both existing students and those who will join us in the future.
The students collected £360 between them, with two students winning a £100 Amazon gift card each; two students winning a £50 Amazon gift card each; and two students winning £30 Amazon gift cards each.
Prize draw winner Francesca Rechcchia said, " It is important for us as students to leave feedback as it helps future students get the best experience."
Roland Dannreuther (Deputy Vice-Chancellor for Education) presented the prizes at the Regent Street campus and thanked the students for taking part. 
The annual National Student Survey (NSS) is a census of all UK students in the final year of an undergraduate course, offering a chance to provide feedback on the student experience at Westminster.
There is still time to take part if you are a final year who is studying on a course that leads to undergraduate credits or a qualification longer than one year full-time study, or its part time equivalent.
By taking part you will have the opportunity to tell us about your course and share your experiences of your time at Westminster – both what you liked and what you think could be improved.
Eligible students can take part in the survey here or find out more here.
The current NSS is open until Tuesday 30 April 2019.