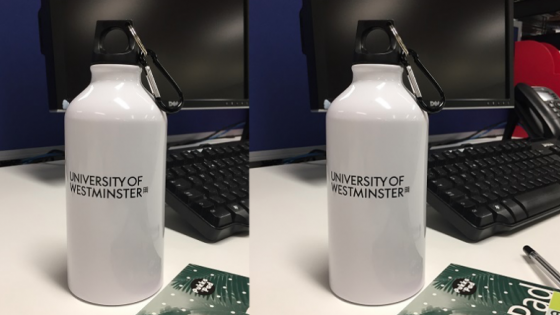 Thanks to David Attenborough's Blue Planet, we are all painfully aware of the impact our disposable lifestyle is having on our oceans. The University recognises that as an institution we have a responsibility to act and operate in such a way as to minimise our environmental impact. This is why we're looking for things we can do to make sure that we are not contributing to the rising tide of ocean plastic.

One easy way you can help to reduce the volume of plastic waste we generate as a University is to switch to a reusable water bottle, rather than buying single-use plastic bottles. The University has a number of drinking water fountains and taps across all sites, where you can refill your water bottle for free.

So please help us to reduce our plastic footprint at the University, and commit to using a refillable water bottle. To make this easier for you, Aramark will be selling University of Westminster branded bottles at all catering outlets for only £3.60. That's the price of 3 bottles of water. So you won't just be helping the environment, you'll be saving money too.

Bottles are now on sale.

If you want any more information, please get in touch with us at [email protected]