Regent Street Cinema, one of the most historic cinemas in Britain, has an exciting array of screenings coming up this month with discounted price for all University of Westminster students.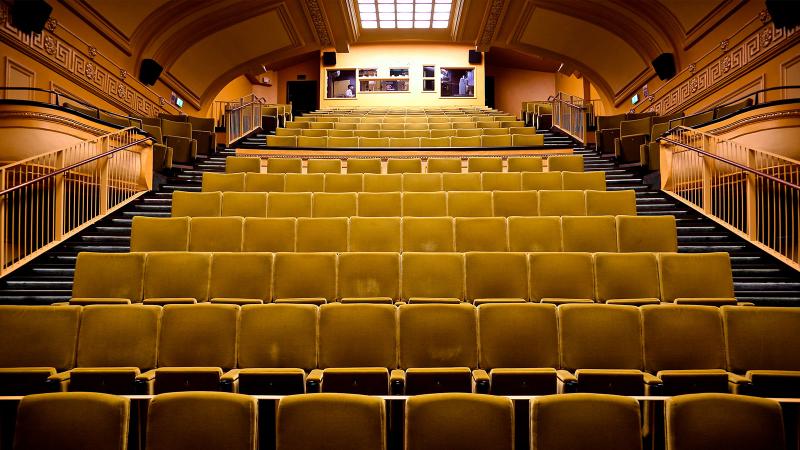 The cinema, which has close ties to the University of Westminster, is renowned for showcasing a variety of indie and studio films, as well as film adaptations, originals, remakes and event cinema. It seeks out the very best so that you can watch the most gripping stories and hear from new voices. 
Regent Street Cinema, which re-opened on Friday 25 June, has an exclusive discounted price of £8 for all University of Westminster student until 1 September. Tickets can be purchased onsite or you can call the cinema on 020 7911 5050 between 5-10pm to book tickets over the phone. Remember that you will need to show your University pass to the cinema staff when on-site.
The cinema will be hosting the following exciting screenings in the coming weeks:
A Quiet place part II (subtitled)
Join us on Wednesday 21 July at 8pm for a subtitled screening of A Quiet Place Part II for deaf or hard of hearing guests. 
Following the deadly events at home, the Abbott family (Emily Blunt, Millicent Simmonds, Noah Jupe) must now face the terrors of the outside world as they continue their fight for survival in silence. Forced to venture into the unknown, they quickly realize that the creatures that hunt by sound are not the only threats that lurk beyond the sand path.
Summer of Soul (…Or, why the revolution could not be televised)
This new documentary and winner at SUNDANCE Festival tells the story of The Harlem Cultural Festival which took place the same summer as the famed Woodstock festival. Over 300,000 people attended, yet it received virtually no coverage from the mainstream media. The 40 hours of never-seen-before footage has remained in storage for the past 50 years, keeping this incredible event in America's history lost - until now. It features many extraordinary performances by artists including Stevie Wonder, Sly and The Family Stone, Nina Simone, B.B. King, the Staple Singers, the 5th Dimension, David Ruffin, Mahalia Jackson, Ray Barretto and Gladys Knight and the Pips. 
Why is this film so important? The festival was overshadowed by Woodstock, dismissed due to racist assumptions by broadcasters, and left sitting in a basement. Now, thanks to filmmaker Ahmir "Questlove" Thompson, it's finally seeing the light of day.
Nina and Madeleine, two retired women, are secretly deeply in love for decades. From everybody's point of view, including Madeleine's family, they are simply neighbours living on the top floor of their building. They come and go between their two apartments, sharing the tender delights of everyday life together. Until the day their relationship is turned upside down by an unexpected event leading Madeleine's daughter to slowly unveil the truth about them.
After a sell-out screening at the inaugural Awards Season Tuesdays, we are bringing back Nomadland ... this Sunday 18 July. 
The multiple award accolades this film has garnered are thoroughly deserved, including Oscar and BAFTA winner for Best Picture, Best Director and Best Leading Actress; and BAFTA Winner for Best Cinematography.
Nomadland is a very special film that is best enjoyed on the big screen. Join us for the encore this weekend.
And if you are looking for a reason to see it, you can read our latest blog post here.