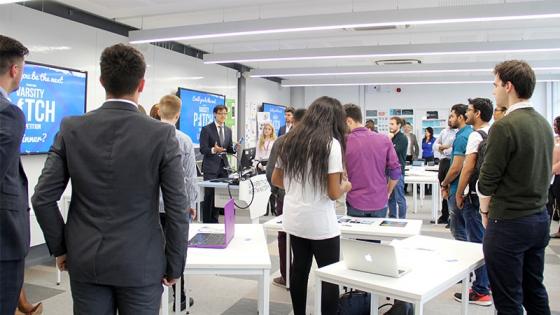 Featuring successful companies such as Goldman Sachs, IBM, the Chartered Institute of Management Accountants (CIMA) and Teach First, Skills Academy 2016 hosted seminars and workshops covering a wide range of topics and skills development. This year sessions covered CV writing, job interview techniques, leadership skills, innovation and creative thinking, public speaking, IT training, communication and body language, self-awareness, mindfulness, entrepreneurship, a mock centre assessment and visa advice for international students.
A mix of internal and external industry professionals, including the Wellcome Trust, Production Base, National Association for Enterprise in Universities and Colleges (NACUE), Jump Training & Development, Comp-A-Tent and EmployAbility offered students a professional and informative perspective throughout the two weeks.
A highlight of the academy was 'A day with Goldman Sachs' led by Careers Consultants from the Career Development Centre and supported by Goldman Sachs representatives. The event was attended by 150 students who took part in three workshops run by Goldman Sachs employees who provided first-hand advice, tips and knowledge concerning CVs, commercial awareness and interview techniques. 
Two other popular sessions were the Entrepreneurship Panel and the Big Ideas Competition Final, held in partnership with NACUE.  Final-year Marketing Communications student Diana Florescu attended both sessions and said:
"Both events were great initiatives to provide students with an intensive marathon of workshops and clinics helping them to get their ideas off the ground. Listening to the speakers' entrepreneurial journey, I have learnt that a start-up's work is never done and it relies on validated learning. It fascinated me how they have learned to adapt and shift directions with agility, quickly altering plans and how they created something new under conditions of extreme uncertainty."
Iram Sial, Careers Consultant at the Career Development Centre and Project Manager of the Skills Academy said: "I am really pleased to see students making a huge effort to attend these workshops outside of term time. It demonstrates how important they view such activities for their career development. Feedback from both employers and students has been extremely positive and encouraging and the Career Development Centre look forward to making 2017 Skills Academy even bigger.'
Learn more about the range of employability initiatives the University of Westminster's Career Development Centre offers to Westminster students or email Iram Sial at [email protected] if you have any questions or if you would like to take part in Skills Academy 2017.