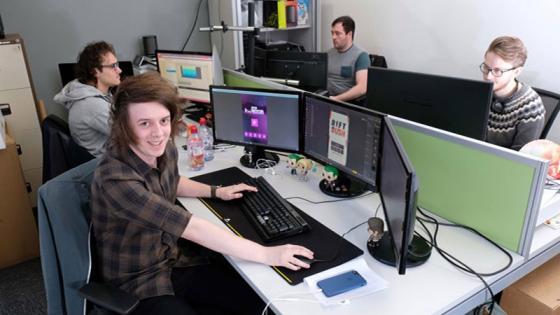 Every member of the winning Westminster team was offered a developer job at AppBox media last year. They now encourage current students to also submit entries in this year's competition.
One of the graduates Sam Clarke said: "Winning the inaugural APPrentice competition last year was insane. To land a job straight out of university, doing something you love, is an opportunity too good to miss. I can't recommend it highly enough and urge all qualifying students to get involved."
Another winning Westminster alumnus Scott Anderson said: "I grew up playing video games on consoles and handheld devices. Later, I got introduced to apps when I got my first iPhone.
"I studied games development at uni and bought an iPad as I was getting interested in mobile games. I started a YouTube channel focusing on mobile app games, created one for my final year project and entered it into the APPrentice competition. I learned how to develop for mobile and optimising for lower-spec devices, as mobiles can't run high-end PC or console graphics. I also learnt how to publish and market a game to get downloads.
"We won and I was rewarded with a job. No two days are the same and bringing your ideas to life is exciting.
This year's competition is open until 8 January 2017. Find out more about the APPrentice competition.
Scott said: "For those applying for APPrentice, make it simple. Don't create something too ambitious and make something addictive people will want to play."
Read the full The Sun article.
Picture credit: Peter Jordan / The Sun