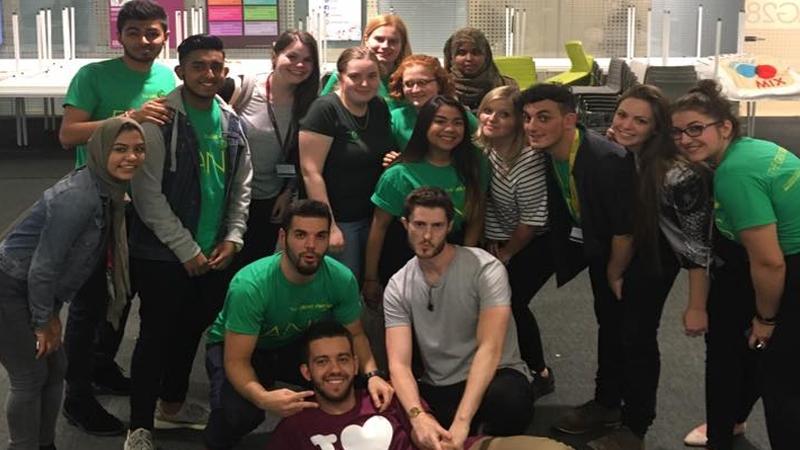 A great start at university is all about making friends, learning the tricks of the trade, as well as having fun. We're looking for current students who can make this happen during induction week for the new undergraduates joining us this September.
What do FANS do?
Our FANS (Friends of Arriving New Students) provide a personal welcome to new students at the University, helping them settle in and acting as their first point of contact for the first couple of weeks.
FANS are a vital part of our Great Start project, this is a collaborative project between Student Affairs and the Students' Union which brings together University faculties, the Students' Union and Corporate Services to deliver the best possible induction for new students.
If you become one of our FANS, you'll be:             
looking after a group of new undergraduates during their first week of induction.
showing students the local area and parts of London
taking students on campus &  library tours
showing students around Blackboard
helping them plan their social life for the first week
making sure they attend all the relevant school and academic sessions
What are the benefits of being a FAN?
There are many benefits to joining the project - previous FANS have described their experience of working with new students as one of the highlights of their time at university.
As a FAN, you'll get:
a cash reward on successful completion
2 days training in key transferable skills
training taking place in lovely hotel setting complete with an overnight stay
valuable volunteering experience
teamwork and leadership skills
Recognised for your HEAR (Higher Education Achievement Record)
networking opportunities and making friendships
You'll also get to have a lot of fun!
Watch our videos to see why you should apply and see some of our training.
Sign up to become a FAN
Note that to become a FAN, you'll need to be studying at the University in September 2018, the role will require full dedication
Want more information?
Have a look at the Students' Union's Smoke Media YouTube channel, which has various videos on the Great Start.
If you have any other questions, get in touch with Nima Takodra, our Great Start Project Manager, at [email protected].