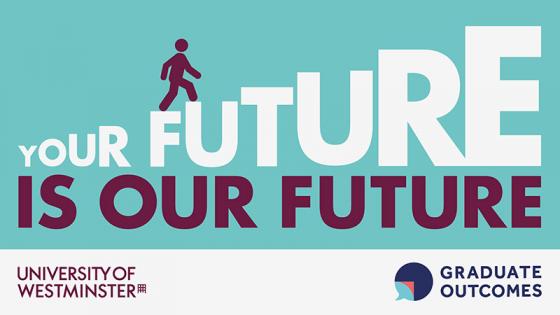 For those of you who are graduating this July, your journey with the University of Westminster is not over.
Whether you are embarking on further study, starting a new career, setting up your own business or planning your next adventure, we are here to support you in your activities, even after you complete your studies.
Did you know that the Careers and Employability Service will continue to support you for up to three years after you graduate? You can also access a number of exclusive alumni benefits, such as access to the libraries, discounts on further study and exclusive social events.
Another way to keep in touch is to let us know about your career when you are contacted 15 months after completing your course for the Graduate Outcomes survey.
The Graduate Outcomes survey captures the outcomes and perspectives of graduates 15 months after completing their HE course. With over 700,000 graduates expected to take part this will be the largest annual social survey in the UK according to the Higher Education Statistics Agency (HESA).
Results from undergraduate leavers taking part in Graduate Outcomes will continue to generate key employability metrics for the University, as published in league tables, TEF and Unistats. 
It's entirely up to you whether you take part in the survey. All graduates in the UK will receive the survey via email from the Graduate Outcomes team who work for the Higher Education Statistics Agency (HESA). Non-respondents will then be contacted over the telephone and by SMS by IFF Research on behalf of HESA.
We would like you to help us to understand how your outcome at 15 months fits in with your future plans and to what extent you are utilising what you learnt during your degree so we can better support you, future students and alumni.
Make sure you are a part of the picture by taking these steps:
When you graduate, join Alumni Online and keep your contact details up to date with our Alumni Team.
 
Keep an eye out for our alumni emails which will remind you of the dates for the Graduate Outcomes survey.
 
Respond to the survey when you receive it.
Further information on Graduate Outcomes can be found on our webpage and HESA's official Graduate Outcomes website.