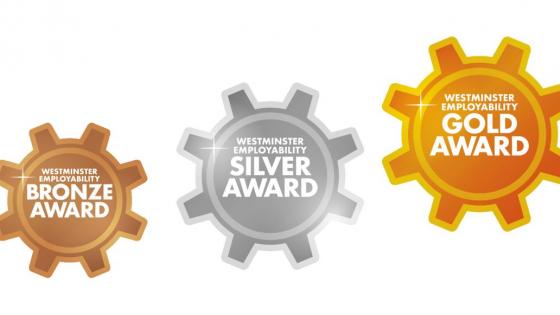 We are excited to announce that we have launched the Westminster Employability Award digital badges.
These are badges which you can add to your LinkedIn profile, embed on your website or blog, share on social media or add to your CV.
The badge is also officially recognised by the University of Westminster and certifies that you have completed the Westminster Employability Award which is designed to help you develop skills and gain experience during your time at the University of Westminster.
Find out more about yourself, explore different options, gain more experience and get job-ready. Complete different activities and collect points to qualify for a Bronze, Silver or Gold Award.
We have also teamed up with the HEAR team to ensure all undergraduate students who complete the Award, get this included on their Higher Education Achievement Report. That's another reason for you to join!
Since we launched, we have included a range of new activities for you to complete and will be adding more to the list from September 2019.
For more information, visit our website and register to participate. If you have any questions related to the Award, please email [email protected] or ask us a question through Engage.