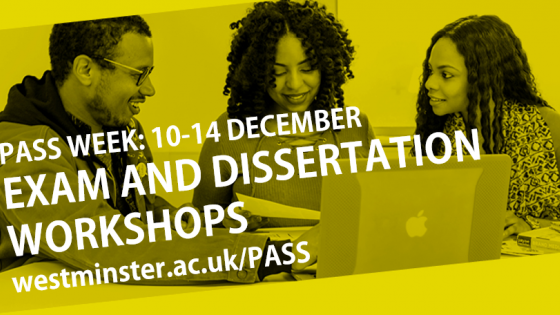 PASS (Passing Assessments Student Support) is a series of workshops to help students prepare for exams and dissertations.
The programme is addressed to all students who are going to undertake exams and dissertations to help you hone the skills you need to succeed at, and emotionally cope with, exams and dissertations.
Topics include revision strategies, memorisation, exam techniques, stress reduction, mindfulness, dissertation research, dissertation writing, referencing and RefWorks.
The sessions are delivered by Academic Learning Development, Academic Liaison Librarians, Disability Learning Support, Counselling, and Faith and Spirituality. 
The workshops will take place from Monday 10 December to Friday 14 December at Cavendish, Marylebone, Harrow, Regent Street and Wells Street campuses.
You can book all workshops by visiting westminster.ac.uk/PASS or engage.westminster.ac.uk/ALD/events.