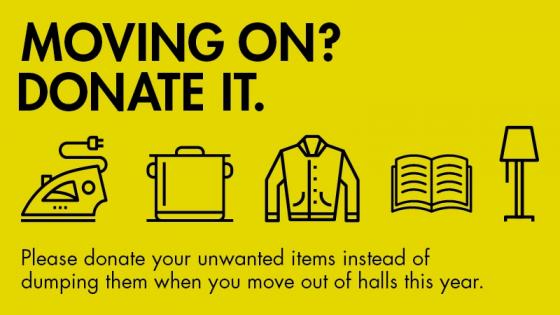 Moving out of halls can be a stressful time and we understand you can't always bring everything with you at the end of the year. Sometimes dumping everything in a skip can seem like the easiest option while you're rushing to get everything ready, but this has a number of negative environmental impacts. That's why we're making it easy and doing the hard bit for you. All you have to do is bring your things to one of our collection points and we'll do the rest.
In previous years, Westminster students have prevented vast amounts of carbon emissions by conserving the resources needed to produce new things and saving tonnes of useable homewares from being sent to landfill where they would have produced greenhouse gases.
Bring your unwanted items to our designated collections points and sort it into the crates we have provided. There will be crates available for different categories including kitchenware, bedding and electronics, so please help us out and sort your things into the crates.
They will be stored over the summer and sold to new students when they move in to halls on a pay-what-you-can basis. The proceeds will be donated to a local charity.
Below you'll see a list of the sort of thing we do and don't want, but if you have something else and you're not sure what to do with it please contact us at [email protected].