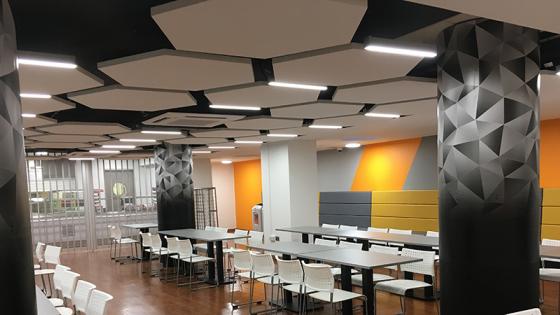 Estates Planning and Services are pleased to announce the completion of the refurbishment of the lower ground floor in our New Cavendish Campus. 
Works took place over the summer with the main focus of this project being the creation of a new student common space outside the Hive refectory.  This provides much needed study and collaboration spaces, complete with new flooring; improved lighting; power points for laptop use.  Comfort cooling has also been installed in order to provide some necessary ventilation.  
The project also saw the refurbishment of the catering seating area, again providing improved lighting and updated furniture.  
Finally, included in these works were the creation of two new Active Learning Spaces -  LG01, 115 New Cavendish Street and Room 602, Regent Street. This was funded by the Quintin Hogg Trust.  As well as a complete redecoration incorporating new lighting and flooring, these rooms have been installed with state-of-the art IT equipment. 
In partnership with the Digital Learning team, the rooms have group tables, seating six students per table. Each table has at the end of it a screen to which students, when working in groups can project from their own devices (laptops, tablets, smartphone). In addition, each group table has a Smart whiteboard. Anything written on a smart whiteboard can be captured and then shared electronically with others in the room. 
Gunter Saunders, Associate Director Digital Engagement, said: "These Active Learning Spaces are designed for collaborative group work, with the option of utilising some great technology to support active student centred learning where it makes sense to do so. Students can also use the group tables for informal learning sessions when classes are not timetabled into the space. The Quintin Hogg Trust has already agreed to support the creation of similar rooms in each of the University's other major buildings during the 2018/19 academic year."
We would like to thank you for patience during these works and invite you to visit and enjoy these new spaces.