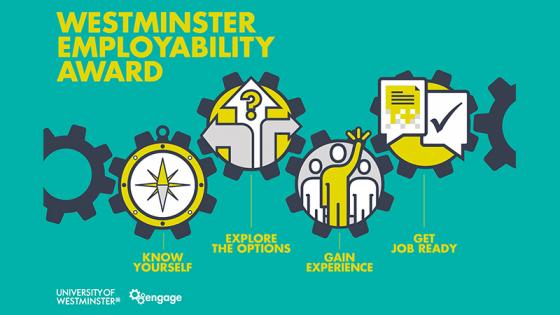 The Westminster Employability Award is designed to help you develop skills and gain experience during your time at the University of Westminster. Find out more about yourself, explore different options, gain more experience and get job-ready. Complete different activities and collect points to qualify for a Bronze, Silver or Gold Award.
Why should I get involved?
Nowadays, employers want much more than just graduates with a degree. They value individuals who have invested in their personal and professional development and have gained skills through various activities. You will get recognition for the extra-curricular activities you do on and off campus and will be able to identify and evidence the skills you have developed to potential employers.
Upon successful completion of the Award, you will:   
Receive a certificate for achieving a Bronze, Silver or Gold Award 
Add something different to your CV and stand out from the crowd 
Attend the Vice Chancellor's Employability Awards celebration event  
Get a chance to win one of the 36 financial rewards for highest achievers from each of the 12 Schools.
Any previous eligible activities will be backdated to September 2016, so if you have already attended appointments and events, you will have gained points towards the Award. Log in now to see how many points you might have already collected.
We have also put together a series of Skills Academy events to help you with your job searching, CV, cover letter, interview preparation and more.
If you have any questions related to the Award, please email [email protected] or ask us a question through Engage.