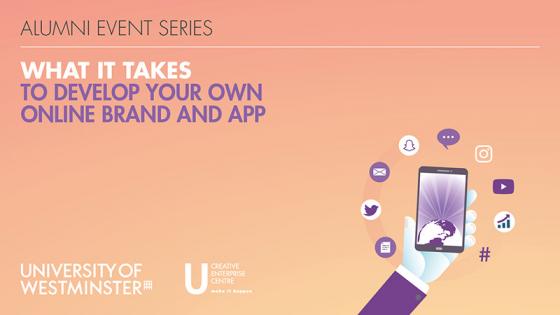 The talk
Join a panel of alumni as they share advice on launching and developing online brands and apps. The panel will draw on their varied experience to provide insight into how to launch or develop existing brands, as well as share advice on the skills required to launch a successful digital brand and app.
Topics covered will include:
The journey from developing to launching online brands and apps
What can make or break a digital brand or app
How to find and retain loyal users and customers
There will be time to ask the panel questions both during the Q&A and informally after the event with refreshments and networking.
The Creative Enterprise Centre (CEC) will also promote the Big Idea Competition, the University of Westminster's new flagship student entrepreneurship competition.
The Speakers
Howard Pull, Strategic Development Director, MullenLowe Profero (MA Marketing, 2000)
Howard is a strategist and project leader, helping brands transform their digital experiences. He spent an 18-year career at world-leading digital agencies where he was involved in pioneering digital strategy, user- centered design thinking and agile methods to launch and scale digital experiences. Howard leads the strategy team for digital transformation specialist MullenLowe Profero and brings experience from a world of brands, including launching the first fashion marketplace for ASOS, building Primark's Grand Prix award winning digital presence, and helping Diageo use AI to create new digital services.
Aliona Sladzinskaya, Co-Founder and CEO of PartyMakerApp.com; Co-Founder and Tech Director at dgArt.co.uk, Mentor and Entrepreneur (MA Management, 2016)
Aliona is currently running a tech startup PartyMakerApp.com – an app and cloud-based web platform for the automation of event planning and booking processes. She is also a Tech Director and one of the Co-Founders at the web development studio dgArt, which specialises in helping startups and SMEs to create their digital presence. After building her career in a London-based investor relations consultancy firm, producing and managing international business events, Aliona got involved in a number of entrepreneurial business ventures, including ecommerce, business consultancy and events.
Kristian Matthews, Software Developer and Director of Cozy Glow (BSc (hons) Multimedia Computing and Animation, 2016)
Kristian is a passionate and adaptable Business Director, utilising the software development and multimedia design skills he developed during his studies and work experience. He runs a small candle business Cozy Glow, built with no investment money to-date; everything has been designed and built from the ground-up. Kristian personally designed the branding, which is currently undergoing a slight re-brand to move along with market research conducted. One of his current projects is developing 3D models of his products for improved product and marketing pictures, with the inclusion of augmented reality on his online store.
Location
Portland Hall, 4-12 Little Titchfield Street, London W1W 7BY