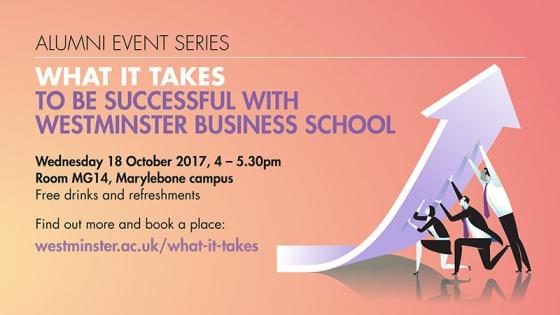 Please note: this event is exclusive to current Westminster students and alumni.
Hosted by Senior Lecturer Nuala O'Sullivan, this event will feature a panel of Westminster Business School alumni who will each discuss their own career trajectory and what they have found most useful in their progression to date. They will each share their journey and the lessons they've learned as well as the experiences that helped shape them into who they are today. Whether you're a current student or a recent graduate, this event will serve as both motivation and inspiration to achieve your own career goals.
Alumni panel
Keeran Gunnoo, Director (Global Employer Brand Director), Unilever (Human Resource Management BA, 2006)
Keeran is a 2006 graduate from the University of Westminster, where she completed her Human Resource Management BA. Since graduating, Keeran has worked across multiple industries helping uplift the corporate and reputational brands of companies such as EY, Shell and currently Unilever. Keeran's expertise also spans across personal branding which has presented opportunities to meet and work with Barack Obama and the CEOs of Unilever, LinkedIn and Glassdoor.
Christopher Ross, Director (UK and EMEA Global Products),ADP  (Business Studies BA, 1990)
After graduating in 1990 at Westminster (formerly PCL) with a BA in Business Studies, Chris began working in IT for the London Fire Brigade. More recently, Chris became IT Director at ADP, an international provider of HR and payroll, serving over 600,000 clients and paying 55 million people worldwide. 
Debora Lucrecia, HR Director, Babcock International Group (Human Resources Management MA, 2010)
Debora Lucrecia is an accomplished HR leader. With over 15 years' experience, Debora is currently HR Director for Babcock International Group. She has a strategic international HR role covering a £100m+ turnover business. In her career, Debora has focused on organisational development, talent, leadership development, M&A, cultural embedment and strategic resource planning. 
Jeremy Cobbold, Franchise Partner Manager (AFG Gulf),Marks & Spencer (MBA, 2002)
Jeremy has worked within Marks & Spencer for over 20 years. During this time he has worked in a variety of leadership roles in stores, finance, clothing business units and supply chain. He is currently in the International Division where he is responsible for the partnership with M&S's largest overseas franchise operator. This role spans across all aspects of the business and is the primary point of contact for the franchise partner. 
James Bradley, Head of Communications: Technology and Safety & Operational Risk,BP (Business Studies Services BA,1995)
James is an accomplished communications professional who has worked, both with and for, a number of leading organisations across a variety of industries. He graduated from Westminster Business School in 1995, with a BA Honours in Business Studies Services, with a particular focus on retail management and strategy. James has spent six years with BP and is currently Head of Communications for Technology and Safety & Operational Risk.
Book your place
The event is free but booking is essential.
If you graduated recently and are not sure how to access Engage, please check the personal email address that you gave the University when you were a student for an email containing details of how to set your graduate password and login. Alternatively click the Graduate button on Engage and use the Forgotten your password link, enter your University ID number or IT username (starting with W) and personal email address to be sent a new email containing instructions. If you are still having problems, please contact the Career Development Centre on +44 (0)20 7911 5184 or email [email protected]tminster.ac.uk.
There will be sufficient time for the audience to ask questions of the panel both formally during a stewarded Q&A and informally during the subsequent networking session.
Refreshments will be provided.