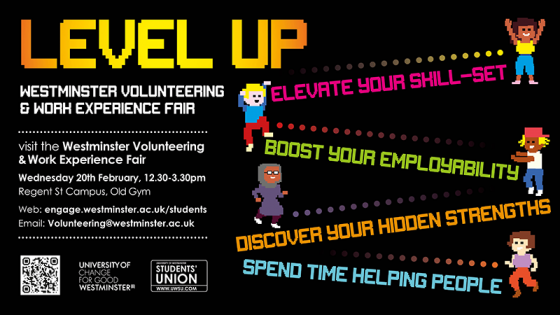 The Volunteering & Work Experience Fair is just around the corner! 
You will get the chance to meet and speak to some of the most well-known charities in London – both big and small – like Oxfam, Save the Children, Diabetes UK, CARAS, and Housing for Women.
If you are wondering who will be at the Volunteering Fair this year, look no further! Here are some of the charities that will be present at the fair that might be of interest to you.
Kith & Kids supports families who have children with autism or a learning disability to overcome their social isolation. They provide a variety of volunteer-supported projects and services, offering opportunities to learn new skills, make friends, go out and have fun.
Rhythms of Life is a registered homeless charity in central London which provides food, toiletries, clothing and sleeping bags for up to 100 people every day, 365 days a year. They also provide a range of classes including IT, ESOL/English and life skills. The charity was founded by former rough sleeper Andrew Faris in 2008 and remains entirely run by volunteers and entirely funded by donations.
Bow Arts Trust was established as an educational arts charity in 1995 and supports a community of over 500 artists with affordable, secure and creative work spaces. Bow Arts also runs the Nunnery Gallery, a contemporary art gallery which supports a diverse range of local, national and international exhibitions and events.
The Heath Robinson Museum is a museum in Pinner, London, dedicated to showcasing the work of the world-renowned artist, illustrator, humourist and social commentator William Heath Robinson.
Heritage Open Days is England's largest festival of history and culture, bringing together over 2,000 organisations, 5,000 events and 40,000 volunteers. Every year in September, places across the country throw open their doors to celebrate their heritage, community and history. Heritage Open Days is coordinated nationally by the National Trust.
Bounce Back is a Charity and Social Enterprise focused on the training and employment of people in, and on release from custody.  Working in a number of London prisons and in the community they train in construction industry skills and support people into employment. Bounce Back welcome volunteers for a diverse range of functions from a range of Head Office roles to more strategic niche areas including coaching and mentoring to assist offenders with their integration back into society.
The Awareness Foundation is an educational charity which builds peace through empowering people in the Middle East and the West to use their faith as a means to bring reconciliation and understanding, driving out mistrust and hostility. PAX, their media programme, promotes a thoughtful, living faith based on love, generosity and hospitality.
The JAN Trust was founded in 1989. It is a multi-award winning NGO working and supporting marginalised women in preventing and tackling exclusion, extremism and violence against women. They provide various classes to improve women's skills, for example, English, Fashion & Design and IT, also campaigning on national issues such as against forced marriages, FGM and extremism.
What are you waiting for? Sign up to the fair HERE!