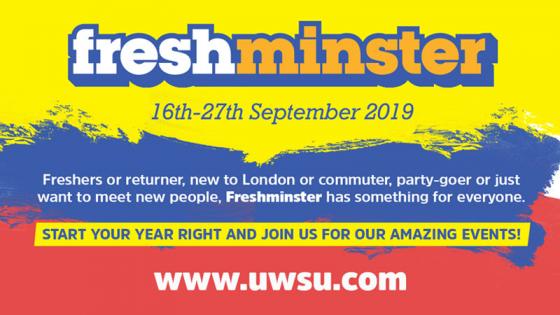 Freshminster has landed!
Freshminster is our clever(ish) way of introducing Freshers at Westminster. There's tons of events and activities taking place from Sunday 15 to Friday 27 September: free events, wristband, ticketed, drinking/non-drinking, and much more.
The biggest free events, and possibly the most exciting one students should experience, are the Freshminster Fairs. The fairs are an opportunity for you to learn more about various Students' Union services such as sports and societies, University departments and a wide range of local and national businesses to showcase what they have to offer. It is also a chance to grab some amazing freebies with our goody bags! We've secured some amazing products, so don't let them go to waste.
Fair dates:
18 September from 10am-3pm at Harrow campus, The Forum
19 & 20 September from 10am-4pm at Marylebone campus, Ambika P3
We've taken it a step further – as you attend the fairs at Marylebone, you will be given a raffle ticket. Keep this ticket safe, and the following week we will live stream a raffle draw and you could win some amazing prizes such as the Amazon Echo Dot, bar tab in our venues, Dragons sports jumpers and more!
We are your Students' Union. We exist to represent and enhance your student experience at Westminster. Our offices are based in Marylebone, Harrow and Cavendish, and are open from 9am-5pm.
If you have any queries, please email us, or come down to our offices and speak to us in person.
You can also find us on Facebook, Twitter and Instagram on @WestminsterSU.
Find out more about Freshminster here.
We hope to see you soon, and can't wait to share everything we have planned for this academic year 2019-20!