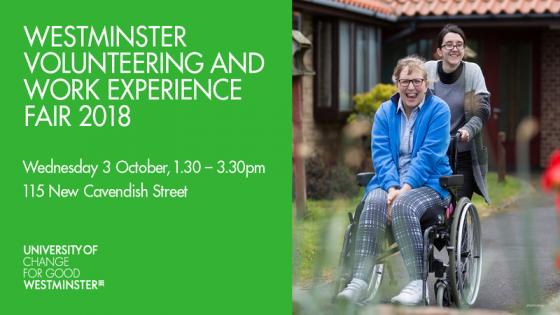 It is that time of the year again where you get the chance to meet and interact with a range of organisations (large and small) offering a variety of volunteering and work experience opportunities.
Attending university is not all about just studying. It is important for you as a student to explore learning outside the classroom. What better way to do so than to join some or indeed many of your peers and volunteer. Volunteering is great for experiential learning and learning by doing. Get involved in extracurricular activities to experience personal and professional growth.
We have invited over 40 different organisations to this year's fair. Spread across two rooms, these organisations will have volunteering and work experience opportunities for all tastes. Regardless of the amount of time you have, or the distance you wish to travel, or the type of skill you want to develop or offer as when making a difference to the wider Community, they are here to offer you just the opportunity. All you need is show-up and spend 30 minutes of your time exploring the opportunities on offer.
No commitment needed at this stage. Whatever happens, your time at the fair will not go to waste. At the very minimum, you will have made some contacts, met some new people and even had fun while doing it!
To find out more about the event who will be attending and to see the floor plan download the Volunteering and Work Experience Fair guide.