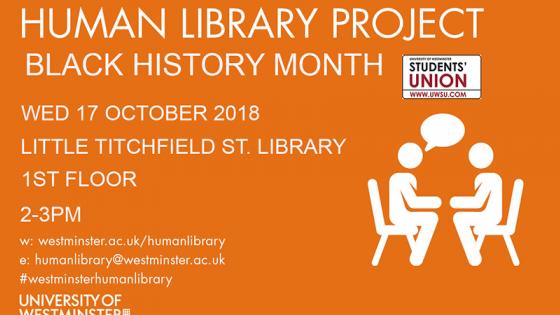 To celebrate this year's Black History Month, we're having a Human Library event at Little Titchfield Library. The theme is experiences of prejudice, bias, stigma, discrimination or stereotype. We've probably all experienced these at some point in our lives, right?
The Human Library is a unique space for sharing conversations about our life experiences. We all have lots in common, and this is a great way of learning more about that. You'll find yourself talking to people you wouldn't normally talk to, about things you wouldn't normally talk about.
Participants choose whether to be a 'book' or a 'borrower'. You can decide on the day.
As a 'book', you will create a book title that reflects an aspect of your life experience using the theme as a prompt.
As a borrower, you get the opportunity to choose a 'human book' and discuss their book title in up to 30 minutes of great conversation. Afterwards, you will reflect on the experience of being a 'book' or a 'borrower' for a few minutes. That's it!
This event is supported by the University of Westminster Black and Minority Ethnic Staff Network, and is open to staff and students.