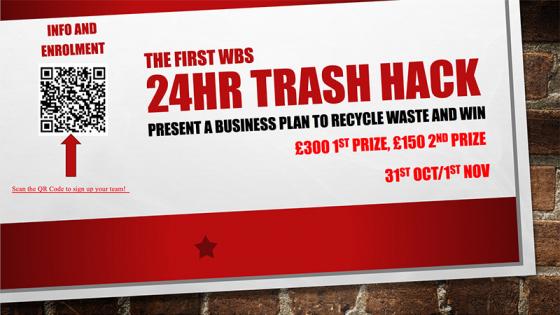 Develop your presentation and team skills by participating in our 24-hour Trash Hack. Working in team's brainstorm ideas of how to collect waste and transform it into something useable.
Workshops will be running on Marylebone Campus between Tuesday 30 October and Wednesday 31 October. We will also have guest speakers giving you insight on global waste transformation.
You and your team can also get the chance to win £300
Guest Speakers 
Global Perspectives on Waste: How Coca Cola is Innovating towards a World Without Waste
Yui Kamakawa, The Coca-Cola Company
Tuesday 30th October, 5pm
Westminster Business School, Hogg Lecture Theatre
The Coca-Cola Company is one of the world's largest corporates and one of the most successful marketing organisations, owning many of the best-known brands in sparkling soft drinks, water and sports drinks.  The company continues to change and evolve in response to the changing environment, including how to operate sustainably. 
A major current concern is how to deal with the world's plastic packaging waste, which Coca Cola accepts they have a responsibility to help solve.  The company has set a global goal to help collect and recycle a bottle or can for every one they sell by 2030.  Yui Kamakawa will talk about Coca Cola's corporate sustainability strategy and their approach to waste and how the company is innovating towards the ideal of a World Without Waste.
Turning Waste into Luxury Fashion: A Success Story to Inspire Future Business Leaders
Kresse Wesling MBE, Co-Founder and CEO, Elvis & Kresse
Wednesday 31st October, 5pm
Westminster Business School, MG14
Kresse Wesling, Co-Founder of Elvis & Kresse, has won acclaim, awards and considerable business success as an environmental entrepreneur. The business launched in 2005, directly in response to the founders' outrage at the vast scale of waste that ends its life buried in landfill or incinerated. 
The founders set out to build a business that rescues and transforms waste, that is financially sustainable and that also delivers a social purpose.  The business began by recovering decommissioned fire hose from the London Fire Brigade, transforming the hose into luxury fashion accessories, and donating 50% of profits to charity. 
Kresse Wesling will share the story of her journey, the waste challenge, the business success achieved and the new partnership launched with The Burberry Foundation to repurpose leather offcuts into new fashion lines.  Kresse will share her reflections on the challenges of working with waste and lessons for future budding entrepreneurs.