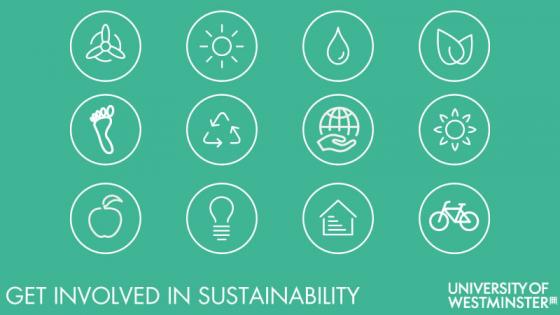 The University's annual Sustainability Week for 2019 will be taking place in the first week of March. We've got workshops, competitions and events to get involved with!
More information about the times and locations of all activities will follow.
If you have any questions or want to book a space on any of the workshops below then please email us on [email protected]. There are limited spaces so book quickly! 
Student Activities
Meat Free Monday
Location: Aramark Restaurants                         
Time: All Day
Aramark will be offering some great meat-free dishes for lunch. We will be demonstrating the difference between the footprint of a meat dishes and a delicious vegetarian alternative. 

If you're bringing in your own lunch, why not take a look at the BBC's Carbon Food Calculator. What is the difference between beef and chicken? Does a bowl of rice produce more climate-warming greenhouse gases than a plate of chips? Is wine more environmentally friendly than beer?
Reusable Coffee Cup Give Away
Location: Marylebone Campus, Learning Platform              
Time: 12-3pm
Collect your free re-usable coffee cup made out of bamboo at Marylebone campus. Punti will be on site handing out their coffee cups and demonstrating the benefits of using their app when you purchase your coffees! 
Growing Space Plant Workshop
Location: Marylebone Campus, Growing Space                     
Time: 12-1pm
At this workshop we'll be learning about edible flowers and planting some in our very own food growing space at the Marylebone Campus. If you're interested in this workshop email us; there a limited spaces so book in quickly!

Pancake Day
Location: 115 New Cavendish Street
Time: 10am until ingredients gone!
It's Pancake Day! We'll be flipping pancakes in the 115 New Cavendish Street reception so come and grab one. We'll have a range of toppings to choose from too so you'll be spoilt for choice.
Wednesday – Re-use & Recycling
Vegan Cooking Class: Zero Food Waste
Location: Harrow Campus
Time: TBC
We will be hosting our very own cooking class to demonstrate to students and staff how to make several meals out of one set of ingredients. You'll be using up every part of the ingredients, meaning no food will go to waste. Contact the environmental society to book on: [email protected]
Bywaters Recycling Stand
Location: Marylebone Campus, Learning Platform
Time: 11am-2pm
Speak to our recycling experts! Bywaters will be on site with their recycling stand, a recycling competition and VR experience. The VR experience is the next best thing to a real tour, a 360-degree virtual reality tour of the facility.
Thursday – Sustainable Travel
Smoothie Bike Stand
Location: Marylebone Campus, Learning Platform               
Time: 10am-2pm
As well as our biker's breakfast we will have our smoothie bike up and running. For a quick spin on our bike you'll earn yourself a free smoothie and we can answer any questions you have about cycling at the university.
We'll also be re-launching the University's cycling newsletter so email [email protected] to make sure you don't miss out!

Dr Bike Session
Location: 115 New Cavendish Street, Front Entrance    
Time: 11am-1pm
We'll be holding another Dr Bike session so bring your bike in for a free check-up to make sure it's in great condition for the warming weather. Don't forget your Staff ID!
Friday – Nature & Environment
Growing Spaces Workshop
Location: Harrow Campus, Growing Space & Library                
Time: 12-1pm
We will be hosting our very own growing spaces workshop at Harrow. This workshop will cover the basics of plant health, what veggies to plant and when to plant them. Contact us to book your place on this workshop.
Competitions (All Week)
Energy Quiz
Take part in our energy quiz for your chance to win some prizes. The competition will be held on our Twitter page, so make sure you check it out during Sustainability Week!

Nature on Campus – Photo CompetitionTake some snaps of nature around the University and enter our 'Nature on Campus' competition for your chance to win some prizes! Post your pictures on Instagram or Twitter and use the hashtag #changeforgood2019 to enter.

We'll putting up pictures of the workshops and be announcing the winners of the competitions on the Change For Good Blog, so make sure you check it out!