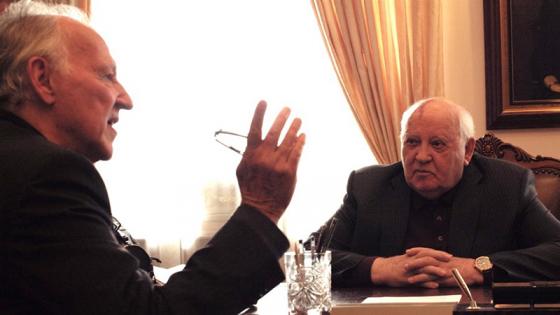 Werner Herzog, one of the world's most prolific documentarians, turns his camera on the former Russian leader who helped to end the Cold War.
The film, Meeting Gorbachev, co-directed by André Singer, visiting professor at the University of Westminster, features a series of interviews with the former Russian leader. Farm boy to President of the USSR; Mikhail Gorbachev helped end the Cold War and enabled the reunification of Germany, only for the Soviet empire to collapse peacefully beneath him. Werner Herzog and André Singer, talk to the man who changed the world and paved the way for the modern Russia of today.
This private screening takes place on Tuesday 6 November at the Regent Street Cinema. You are invited to join us for drinks from 5.30pm in the Regent Street foyer. The film starts at 6.30pm with a Q&A from 8pm.
This is a free event but seats are limited.
Please note: as a courtesy to others, only book if you plan to attend. Please RSVP by Friday 2 November.