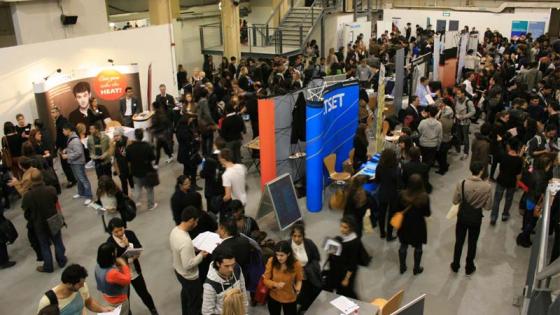 Whether you are looking for a job during your studies or for a graduate role, join us at the Inclusive Futures - On-Campus and Virtual Careers Fair at the Marylebone campus, where you can meet with inclusive employers seeking diverse talent or join our virtual fair.
SAVE THE DATE: 
When: Wednesday 9 October 2019 from 11-5pm
Where: Marylebone campus, Ambika P3 and various rooms on ground floor
And a virtual fair for remote access!
What else is on?
Throughout the afternoon there will also be opportunities to hear from industry experts and recent graduates offering you information and advice on a variety of topics. 
1:00 PM to 1:45 PM - Gender Diversity – Why it still matters to employers - delivered by Inclusive Employers

1:45 PM to 2:30 PM - Working in the UK: What should you know as an international student? - delivered by Student Circus

2:30 PM to 3:15 PM - LGBTQ+ Workplace Inclusivity - delivered by Stonewall

3:15 PM to 4:00 PM - How to break into the elite - delivered by Sanctuary Graduates

4:00 PM to 5:00PM -  Graduate Recruitment and Entering the World of Work - A panel discussion featuring recent graduates hosted by Inclusive Employers
What should you do to prepare?
To get the most out of any careers fair, preparation is key! You can find top tips from previous employer attendees on what you should do to prepare in this career fair networking video.
There will also be a number of webinars available for you to watch on the day before the fair on CVs, networking, LinkedIn and disability disclosure. Find out more here. 
What employers will be there?
There a wide range of employers attending both on campus and online, please see the current list below:
Accenture (Online), Airbus China  (Online), BAE Systems (Online), BDO  (Online), Bird & Bird (Online), Bloomberg (Online), Brandsen & Tourgot Executive (Online), Clifford Chance  (Online), Frontline  (Online), GSK (Online), Irwin Mitchell LLP  (Online), ITV  (Online), Leonard Cheshire - Change 100 (Online), PwC (Online), Premier Pathways (Online), Shoosmiths (Online), Virgin Media (Online), 1711 By Ascot  (Online), Afro-Caribbean Insurance Association, Ambition , Archus Limited BGC Partners, Brands2Life, Change100, Civil Service Fast Stream, Computacenter, Dexters Estate Agents, Docebo UK, East London Business Alliance (ELBA), FDM Group, Goldman Sachs, Graduates into Health, Heart of London Business Alliance, Hire STEM Women, The Chartered Governance Institute, i-movo, Investment2020, KURT GEIGER, Lidl, Mansion House Consulting, Merkle Inc, NetApp, Portland Communications, Santander Consumer, Skills Development Network, London - NHS, Sky UK, Step, Student Circus, TechTarget, Transport for London (TfL), Utility Warehouse Limited, Willmott Dixon Interiors.       
Find out more information about the event and book your place here.