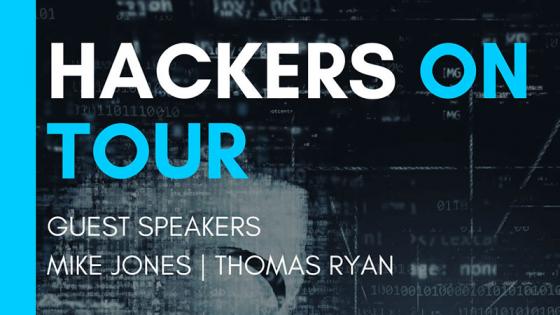 Join us for a fireside chat with Mike Jones and Tom Ryan, former hackers, to hear their stories and get insider tips on how you can protect you and your business from cyber attacks.
Agenda:
6.00pm Arrival
6.30pm Introduction
6.35pm Guest speakers Mike Jones and Tom Ryan
7.00pm Q&A with panel
7.30pm Networking, pizza and beer
8.30pm Finish Mike Jones
Mike Jones (sting3r) has a background in cryptology. He has performed numerous penetration tests for various industries such as the Department of Defense, major financial institutions, casinos, telecoms and various others.
Mike has developed exploit techniques, both network and app based, as well as physical. Mike's experience has been on both sides of security, being a long term member of various hacking groups, from low level to the point of APT nation state.
His experience was refocused to helping industries protect themselves. The key to a good defense is know who you're defending against. Thomas Ryan
Thomas Ryan is a world-renowned security expert currently employed by Micro Focus Fortify, where he provides and implements strategic application security programs for Fortune 500 companies.
Prior to working for his current employer, Mr Ryan was Security Researcher and the Co-founder and Managing Partner for Provide Security, a boutique security firm focused on the convergence of cyber and physical security . Mr Ryan founded the company in December of 2009, in response to the rapidly growing demand for cyber security professionals in the world of increasing internet-based attacks, social media threats and cyber espionage.
The execution if this strategy began in 2010 when Mr Ryan was widely recognized for the "Robin Sage Experiment". Through this experiment, Mr Ryan drew the attention of professionals around the world as they were awakened by the dangers of social media today.
After creating a fictional persona online, Ryan's experiment proved how seemingly harmless details via social networking sites could be destructive to both an individual's protection and the corporation's security as well.
Other honorable mentions about Mr Ryan is his work with the US military and various global government agencies in the areas of ethical hacking, intelligence and protection details for Former Presidents, Prime Minister and Secretaries of State