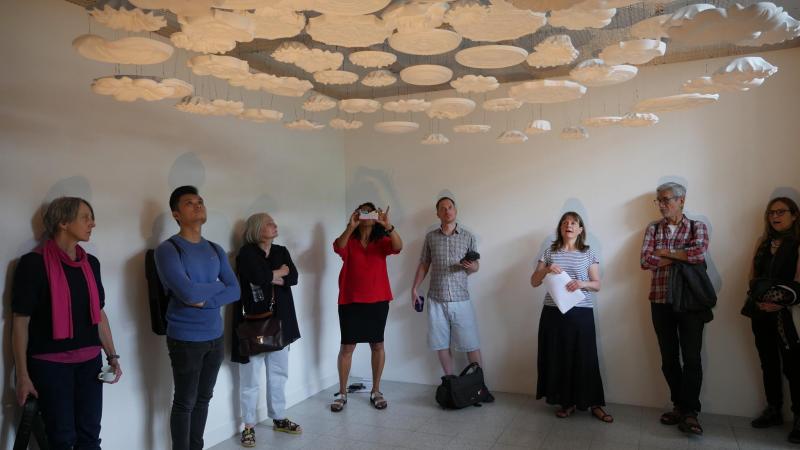 About the exhibition
Hyphen is an exhibition of research-in-practice by PhD candidates and alumni at the Centre for Research and Education in Arts and Media (CREAM) and the Communication and Media Research Institute (CAMRI) at University of Westminster. What possible worlds can be discovered in the interstices between research and creation? What modes of knowing and un-knowing are activated in an exhibition focused on process rather than form? How do we study, as Moten and Harney say, with other people, and what do the works that we create do when they socialise with each other? The hyphen is a mark that both separates and connects, and opens into multiplicities of origins, interests, cultures, media, practices, fields of research, modes of creation. The hyphen is non-binary, multidimensional; a link, a gap, a joint, a hinge, a line, a break, an opening, a void. Hyphen assembles practices that incorporate video, photography, sound, installation, ceramics, digital media, performance, dance, music, workshops, talks. In conjunction with the exhibition, the online journal Hyphen will be launched.
Caucus Information
The CREAM/CAMRI Doctoral Caucus is a self-organised group run by PhD researchers. Any PhD researcher and alumni at CREAM and CAMRI is encouraged to join and actively participate. The aims of the Doctoral Caucus are:
to provide a focus for developing a richer research culture or environment within the CREAM and CAMRI programmes;
to establish a both formal and informal structure where PhD researchers can network, share, propose new initiatives and support each other; an opportunity 3. for community-making and sharing of research;
an opportunity to learn and enhance professional skills such as presentation, curation and editorial work.
To date, the Caucus has organised two group exhibitions and published the print journal/catalogue In Process and the website in conjunction with these. As a result of our second exhibition, we were approached to devise proposals for a public art commission in Harrow, which has led to a Caucus member being awarded the commission. In addition, we have contributed to a number of CREAM research symposia and organised a series of reading groups and work sharing sessions. Currently the Caucus is developing a group exhibition at Ambika P3 in Marylebone and an online journal, both titled Hyphen, to be launched in March 2019.
Location
35 Marylebone Rd, Marylebone, London NW1 5LS